For four consecutive years, tefficient has benchmarked operators in Sweden, Finland, Norway and Denmark against a pure Nordic peer group.
We are now considering taking this established benchmark to the UK – addressing the MNOs and large-scale MVNOs of the UK: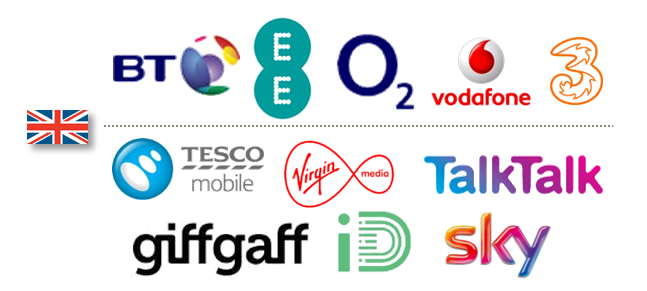 Unlike most other markets in Europe, UK's MVNOs have significant scale and strong owners with large adjacent business in the UK.
Tesco Mobile had 4.6 million customers in March – and is 50/50 owned by Tesco and Telefónica O2
Virgin Media had 3 million customers (of which 2.3 million postpaid) in March – and is today owned by the international cableco giant Liberty Global
TalkTalk has a quickly growing mobile base – 0.7 million in March – and is positioning itself as the value for money quad-play alternative in the UK
giffgaff is fully owned by O2, but run independently
iD is owned by Dixons Carphone and was launched as late as May last year but has quickly gathered a few hundred thousand customers, in part thanks to its data rollover proposition and its retail footprint
Sky is yet to publicly launch its mobile proposition – something that should happen this year – but once done, Sky has a TV customer base of around 11 million UK households that it can upsell mobile to
The recent decision of the European Commission not to allow 3 to merge with O2 meant that the UK (in a foreseeable future, at least) will continue to have four mobile operators (MNOs). This is something that most MVNOs salute since the number of host MNOs will remain intact and competition on wholesale prices likely will be fierce.
In this picture, the need for UK MNOs and MVNOs to measure, compare and improve competitiveness has never been higher
In contrast to other benchmarks, our benchmark is 100% fact based without modifications done to actual MNO/MVNO data.
In total, 10 MNOs/MVNOs (see the image at the top of the page) are considered to be invited to participate. As in all of our benchmarks, the identities of the actual participants will be confidential. It's also important to know that the benchmark results are available to the participants – nobody else.
---
The graph shows the current status when it comes to interest to participate:

---
The benchmark covers revenue, OPEX, headcount productivity, subscribers & channels, performance, traffic & load, quality and innovation & growth for 27 functions within Marketing & sales (split on B2C and B2B), Customer service & telesales (split on B2C and B2B), IT, Support functions and Product development. [In order to allow comparisons of MNOs and MVNOs, all networks functions and the wholesale function have been taken out of the benchmarked scope. If minimum three MNOs participate, it can be added for these MNOs].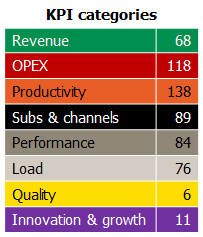 The benchmark report will cover 590 KPIs in total, distributed as in the table.
If you like to participate, there is a fixed participation fee which includes a company-specific 200-page report, an on-site presentation to the management team and up to three department-specific on-site presentations.
The timeline is synchronous for all participants – and is currently open for discussion.
If you're among the 10 MNOs/MVNOs, please contact tefficient for more information.