The Nordic operator benchmark – for the 8th year in 2020
In an international comparison, operators in the Nordic countries stand out – most often positively. The customers of the operators also stand out when it comes to usage, behaviour and expectation of quality: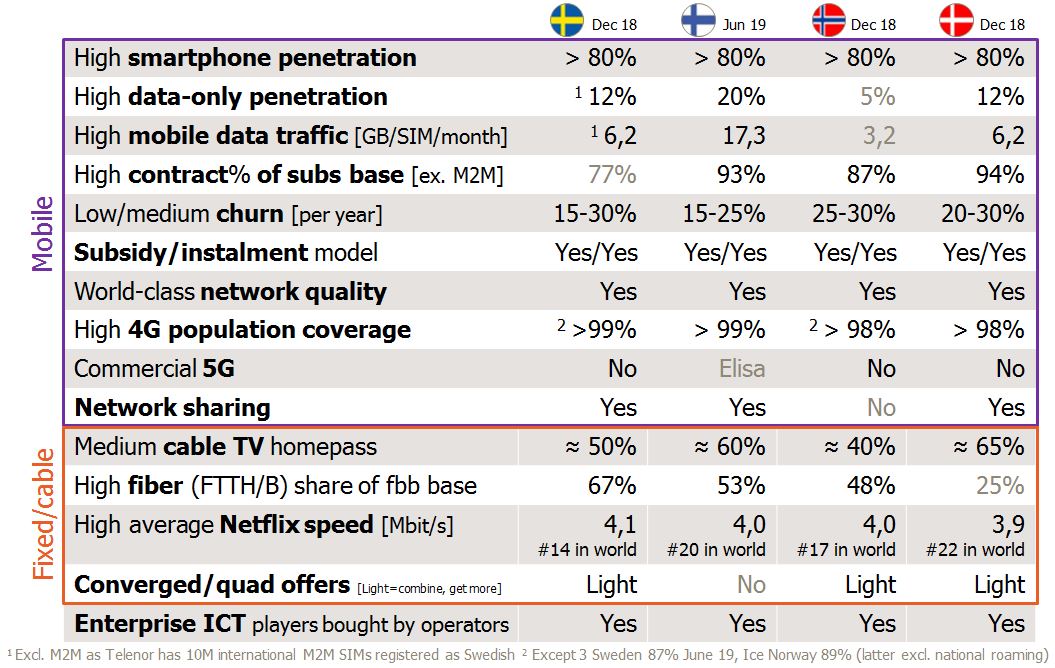 Our benchmarks have also shown that Nordic operators are productive, OPEX efficient, have a good channel mix with much of sales and care online – and generally interested to improve further.
When a Nordic operator wants to improve further, there's little guidance available from outside of the Nordics region.
Every year since 2013, Tefficient has therefore run a Nordics-specific benchmark open solely to operators in Sweden, Finland, Norway and Denmark. In 2020, it runs again:

In contrast to other benchmarks, it is 100% fact based without modifications done to actual operator data.
Our benchmark reflects reality, not a theoretical model.
In total, 14 operators are invited to participate this year. As previous years, the identities of the actual participants are confidential. The benchmark results are only available to the participants [others: don't bother asking].
The benchmark is an integrated operator benchmark which cleverly allows comparisons between operators with different mix between mobile and fixed in its integrated business. It is also possible to participate as a pure mobile operator or as a pure fixed operator.
The total number of KPIs is 890.
The benchmark covers revenue, OPEX, CAPEX, headcount productivity, subscribers & channels, performance, traffic & load, quality and innovation & growth for 54 functions – across 300 pages.
Based on customer feedback, a number of additions and refinements have been done in 2020.
---
If you're among the 14 operators, please contact Tefficient for an introduction.