Benchmarking is a great tool. And analysis is always insightful.
But you also need to do something based on it – like launching a new proposition, a new product or addressing a new customer segment. You might also need to demonstrate thought leadership.
We help you prepare your go-to-market strategy
As shown by our references, Tefficient has made go-to-market preparation projects with telecom operators and suppliers:
Entry into mobile: Positioning and propositions
FMC introduction: Competitive scan, positioning and propositions
Develop a Nonstop Retention® agenda for increased attractiveness and loyalty
Mobile data monetisation: Best practice, differentiation and propositions
Integrating Wi-Fi into mobile data monetisation
Mobile video: Best practice, positioning and proposition
Network automation: How to explain the benefits in operator language
We have also helped operators and suppliers to demonstrate thought leadership: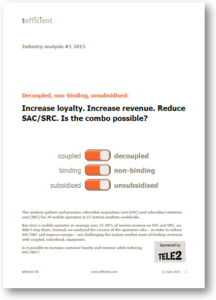 In addition to these, we have ghostwritten several white papers, industry analyses and solution papers under our customers' names. And compiled a few slide decks.
From time to time, we are asked to present thought leadership material to the customer's customers. Something we enjoy doing! Or let us present it in a webinar.
Tefficient can work with you to prepare the foundation for a go-to-market strategy that actually makes a difference.
Within our team, we have the go-to-market expertise – combined with deep insight into telecoms business – as well as a people who are good at writing. We can also help with collecting customer feedback to develop your go-to-market strategy.