45 million SIMs: The combined EplusO2 will be the largest mobile operator in Germany and in the European Union. A mobile giant was in practice born today with EU's approval of Telefónica's acquisition of E-plus.
But during the more than 11 months of approval, the competitive playground changed:
Vodafone acquired Kabel Deutschland and is about to integrate it in order to offer quad-play
Telekom developed a new strategy, bringing quad-play to Germany during 2014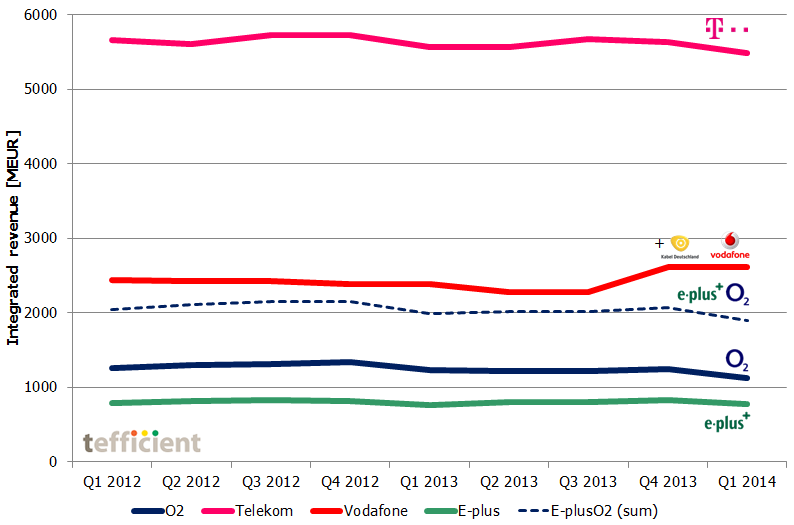 Realising that the future battlefield won't be mobile-only, we should understand how EplusO2 would rank when it comes to integrated revenue. See the graph above.
When we sum up O2 and E-plus (dotted line), we are no longer looking at market leader. EplusO2 will be number 3.
E-plus is (and has always been) mobile-only. O2 has a fixed arm in Germany, but its share of integrated revenue is just about 25% (and much of it relates to wholesale). What's worse from a quad-play perspective is that O2 discontinued its TV product by the end of 2013. It never gained more than 90 000 customers – nothing in a country with a population of 82 million.
Telefónica might have something up their sleeve, but the question still has to be asked: Has the mobile-only scale logic behind the merger of O2 and E-plus passed best before date?