Outdoor population coverage has become the industry norm when operators communicate how far they are when it comes to 4G LTE network rollout.
In a previous post we compared the communicated population coverage in September 2014. These values are yellow in the graph below – click to enlarge.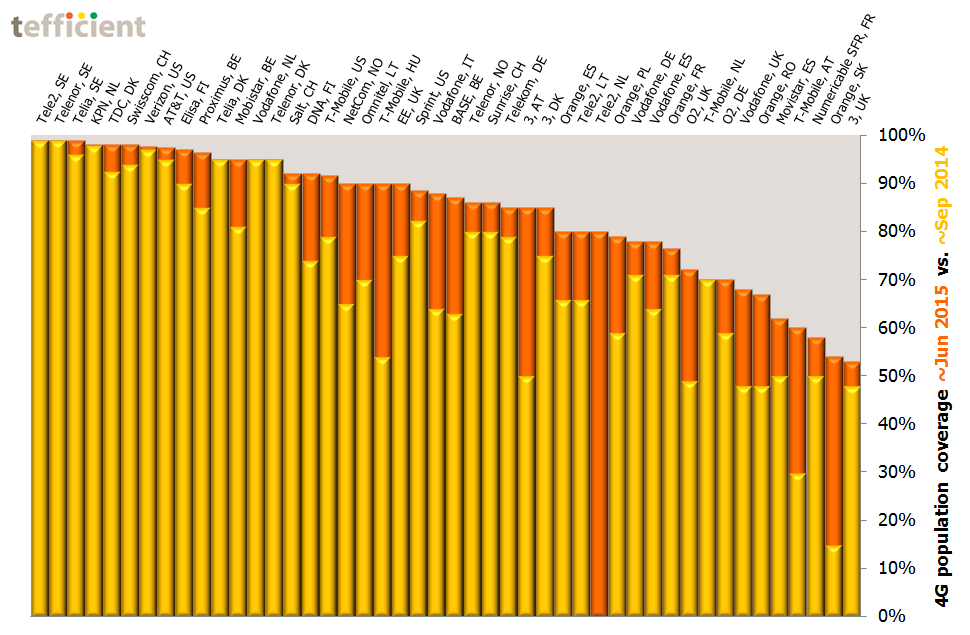 The orange bars represent the situation in June 2015 (or last operator-communicated figure).
The graph contains operators in Europe and USA. The top 10 list when it comes to operator-communicated population coverage is:
Tele2, Sweden
Telenor, Sweden (sharing network with Tele2)
Telia, Sweden
KPN, the Netherlands
TDC, Denmark
Swisscom, Switzerland
Verizon, USA
AT&T, USA
Elisa, Finland
Proximus, Belgium
With the exception of Proximus, most of the top 10 operators haven't expanded their population coverage much in the past nine months. Since they are on 96,5% population coverage or more, this is quite logical.
The operators who expanded their population coverage the most are the operators displaying the most orange in the graph. We tend to find them in the lower two-thirds of the graph.
We reiterate that all numbers are operator-communicated. The actual customer experience can be different, most often due to that most data usage happens indoors, not outdoors. In another post, we compared operator-communicated population coverage figures with those crowd-sourced by OpenSignal and found significant differences.
This indicates that operators need to continue expanding their 4G LTE networks further to reach a customer experience matching their communicated population coverage figures.
The last piece of the puzzle might actually be Wi-Fi: Several operators have or are about to launch native (=no app required) Wi-Fi Calling, also known as Voice over Wi-Fi, which allow customers to seamlessly use existing Wi-Fi also for calls when indoors in premises with insufficient coverage from outside. If launched in conjunction with VoLTE (and with the right handset), even handover is possible.
T-Mobile USA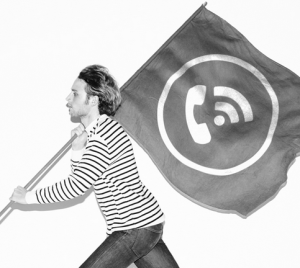 said that 7 million of their customers (about 13% of base) had used Wi-Fi Calling in the period from launch up to March 2015. Since customers pay the same as for a regular call, there's no incentive beyond indoor coverage to use Wi-Fi Calling. Considering that it was launched just six months earlier and isn't available on all legacy handsets, T-Mobile's take-up figure indicates that there is a need for deeper coverage indoors.
Operators like EE, Sprint as well as 3 and SmarTone in Hong Kong have also launched native Wi-Fi Calling.