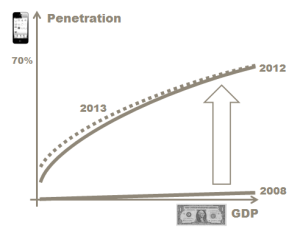 An amazing growth story comes to an end: Smartphone penetration isn't really growing any longer in mature markets. Smartphones are still sold in high volumes, but the difference is that they're now primarily sold – subsidised or not – to existing smartphone owners, who upgrades.
In 2007, there was an untapped demand for smartphones. With penetration rates approaching 70%, this demand is now fulfilled.
Also maturing markets show signs of saturation – at penetration levels less than 20% – since income level is proven to be the primary factor behind smartphone penetration.
The need for the 30 USD smartphone crystallises from this analysis. But operators must also upgrade networks for mobile data – and make mobile data hassle-free also for prepaid customers.
Download analysis: tefficient public industry analysis 11 2013 Smartphone penetration