Review of the present Roam Like Home offers in France, the UK, Denmark, Norway, Sweden and Finland

15 June 2017 will be a milestone in the history of European telecoms: From this day, not only goods, workers, services and capital can move freely across EU borders: Also mobile phone calls, messages and data can start to move freely across the borders when the mobile roaming fees – after ten years of regulation – finally are abolished within the European Union.
Roam Like Home is the term that 500 million EU citizens, with about 670 million subscriptions, should get familiar with: Consuming a minute, a message or a Mbyte will be no different cost-wise when roaming in another EU country than at home.
The unknown: Fair usage limit
There is still an* undefined element, though: The fair use limit. The European Commission was mandated to define the details of such a limit which should safeguard European operators against permanent roaming. Without such a fair usage limit, operators could feel the need to increase the national prices to compensate for the risk of abuse.
This risk is most obvious for operators who offer generous – or even unlimited – data allowances for a reasonable price.
Identify countries with low effective revenue per Mbyte here
If you look at the graph above, you might guess why Finnish operators are particularly worried about the upcoming fair usage definition: The average Finnish SIM consumed 5 GB of data per month in 2015 and roughly half of Finnish subscriptions have unlimited data. If Finns took their home usage pattern with them when travelling in the EU after 15 June 2017, the margins of Finnish operators would go down: The wholesale cost of a Mbyte of mobile data in Europe is most often higher than the retail revenue per Mbyte in Finland.

The Finnish market leader, Elisa, thought it had identified a loophole when announcing in March that EU's regulated rates as of 30 April 2016 would apply, but only in conjunction with download data throughput throttled to 0.256 Mbps – a speed without a use case. Higher speeds would cost. Elisa's competitor, DNA, communicated roaming prices that were higher than the ones stipulated by EU. The telecom regulator of Finland, Viestintävirasto, intervened and both Elisa and DNA had to accept the regulation.
EU's proposal last month – to cap the wholesale roaming price to maximum 0.85 euro cent per Mbyte – failed to satisfy Finnish operators.  You can see why in our report: The total retail mobile service revenue per Mbyte in Finland was below 0.3 euro cent in 2015. Buying something for 0.85 and selling it for 0.3 isn't good for the margin.
Differentiate now – too late next year
With Roam Like Home being mandatory in less than a year from now, many European operators have realised that if they should benefit from any market differentiation, they need to start offering beta versions of Roam Like Home already in this summer vacation period.
In one of our predictions for 2016, we said:
"At least one mobile operator per EU country will have launched roam like home in 2016 – ahead of legislation"
And it seems as if this is indeed happening. Spearheaded by challenger operators like Free in France and 3 in the UK (above) – who both started to include Roam Like Home in key destinations long before EU's thoughts were put on paper – operators have now increasingly started to include Roam Like Home in new or existing plans.
Without the fair usage limit defined by the EU, the conditions offered by operators vary significantly, though. Some operators might even hope to create a de facto standard to influence EU's fair usage limit definition? [Deadline in December].
We have compared the present Roam Like Home offers in the consumer market in six countries: France, the UK, Denmark, Norway, Sweden and Finland.
France
This table summarises the Roam Like Home offers of the four operators in France: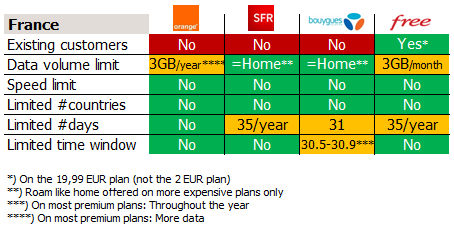 As mentioned, Free spearheaded Roam Like Home not only in France, but in Europe. Free has included more and more destinations – also beyond the EU – in its 19.99 EUR per month plan:
Though a generous inclusion on a low priced plan, there are limitations in Free's Roam Like Home: Up to 3 GB per month can be used free of charge when roaming in these countries. In addition, no more than 35 roaming days per year are included.
Free's competitors are overall less generous: Customers who want Roam Like Home need to sign up to a premium plan – in all cases more expensive than Free. This summer, Bouygues Telecom is, however, including Roam Like Home on a price point matching Free's: During a maximum of 31 days in between 30 May and 30 September (but not later), Bouygues' customers can use its home bucket also in Europe.
The UK
In 2013, 3 UK launched Feel At Home, bringing a Roam Like Home experience to most of its existing customers. The offer expanded on the original 3LikeHome initiative (launched already 2009) which allowed '3' customers to roam in other '3' networks worldwide. Note that even though the list of countries has been expanded, it's not full EU.
In May this year, Vodafone introduced Roam Like Home in a set of new plans. The roaming allowance varies with price. Note that customers have to commit to a binding contract (12 or 24 months) to get the Roam Like Home option – it's not offered on contracts without binding.
The two UK market leaders, EE and O2, aren't offering Roam Like Home (RLH). 50% O2-held Tesco Mobile is, however:
In a 2016 summer promotion, Tesco Mobile customers can Roam Like Home in EU for up to 28 days in the time period 23 May to 3 September.
Denmark
S
trongly inspired by 3 UK, 3 Denmark included 3LikeHome in most existing plans in March 2014. 3 quickly earned a good reputation for this, in part for the smart practice to calculate the saving and text it to 3 customers upon arrival back home, see example. It was only in May this year that 3 included all remaining EU countries, though.
3's competitor Telia was also early into Roam Like Home, introducing it as a selectable inclusive option (other options would e.g. be content like Spotify) in new plans.
Telenor and YouSee (ex-TDC) have followed. Note that Danish data allowances generally are high and that all operators cap the amount of roaming data. Telenor, Telia and 3 cap it to 10 GB per month whereas YouSee has a much lower, 1 or 2 GB, cap depending on plan.
Norway
EU's roaming regulations apply to EEA members like Norway even though Norway isn't a member of EU.
In a large marketing campaign, Telenor launched new plans (FRIHET and UNG) with inclusive EU roaming in April. Existing customers need to change to the new plans to get Roam Like Home. Compared to the old plans, Telenor doesn't charge more, but have chosen to reduce the data allowances. Customers with high data usage at home should thus refrain from changing to the new subscriptions.

Telia – who at this point in time already had a Nordics/Baltics Roam Like Home included in their plans – immediately responded to Telenor's initiative by including EU Roam Like Home for almost all of their existing customers (without the need to switch). Even though use is limited to 45 days in the last 90 days, Telia's Roam Like Home offer is a good one – not only in Norway, but in Europe.
Sweden
Operators in neighbouring Sweden have been less interested in introducing Roam Like Home even though the players at large are the same as in Norway and Denmark. Since December last year, Telia provides customers with it – but only in Nordics and Baltics.
Telenor launched Roam Like Home in EU in June this year. Customers need to change to a new plan, Frihet, though. The advertising of Telenor doesn't spell out that apart from Norway and Denmark the plan doesn't really offer Roam Like Home – since the downlink throughput is throttled to maximum 1 Mbps. If the habit at home is to e.g. watch Netflix over mobile, Telenor's customers have to change that habit abroad.
Considering that neither Tele2 nor 3 has launched Roam Like Home (RLH) in Sweden, Telenor's proposition is still differentiating.
Finland
We have already described the difficulties Finnish operators have when it comes to Roam Like Home. This can also be seen in the comparison:
Elisa and DNA do not offer Roam Like Home, but Sonera has for some time had the same Nordics and Baltics offer included as Telia now has in Sweden.
Conclusion
In order to be able to differentiate – providing customers with a compelling reason to come and stay – many European operators have introduced Roam Like Home in EU ahead of legislation.
Waiting for EU to define the fair usage limit, operators currently have full freedom in designing the terms and conditions. Consequently, the current Roam Like Home terms and conditions are, in most cases, non-transparent and difficult to understand. There can be limits in data volume, throughput, countries, number of days – or the offer can be time-limited.
Marketing messages are often over-simplified, giving the impression that customers actually can behave exactly as home while abroad. This is not the case.
While over-engineered and slightly deceptive, the current inclusive Roam Like Home propositions are still – in every single case – an improvement compared to the status quo.
Operators with inclusive Roam Like Home will therefore experience a better summer than those without. Customers might as well.
Read more about Nonstop Retention
---
Since the Roam Like Home terms and conditions often are far from transparent we realise we might have overlooked important details in the summaries. We are therefore encouraging you to contact us if something is misunderstood.
*) Thanks to Jakob Petersen for pointing out that Roam Like Home will not happen automatically. In addition to the pending fair usage limit definition, the commission should also detail rules on the sustainability derogation and get their proposal on regulation of the wholesale roaming market approved by the parliament and council.