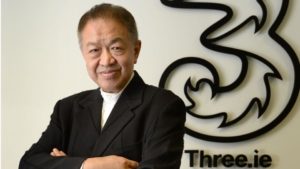 When Canning Fok, the co-managing director of CK Hutchison (the group that owns '3'), in the earnings webcast yesterday attributed the revenue headwinds of the group to oil, foreign currency and the iPhone, two things became clear:
The iPhone has been a major driver of mobile operator revenue
The iPhones currently on the market (displayed below) aren't attractive

Canning Fok referred to his own '3' operation in Hong Kong. The mobile hardware revenue of 3 HK dropped from 7150 MHKD in the first half of 2015 to just 1498 MHKD in the first half of 2016 – that's 79% less mobile hardware revenue in a year.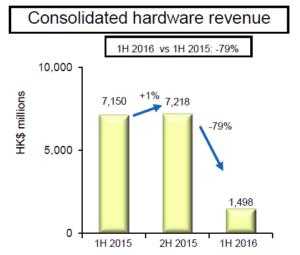 This drop in mobile hardware revenue – just in Hong Kong – correspond to 3% of the entire global revenue of CK Hutchison group. Let's then remember that the group has most of its revenue from ports, retail, infrastructure and energy – not from telecommunications.
Surely the EBITDA margin of 3 Hong Kong must have collapsed when the mobile hardware revenue dropped 79% causing the total mobile revenue to drop 62%?
No. It increased from 9,4% to 19,1%.
Selling smartphones – and then particularly iPhones – is one of the most margin-diluting things an operator can do.
The attractivity problem that the current generations of the iPhone have is not only seen in the figures from 3 Hong Kong; it's also seen in Apple's sales figures. At the same time operators' churn figures have never been lower in many mature markets – best demonstrated by the development in the US:
So what if an unattractive iPhone is actually a good thing for mobile operators' margin in general? Not only for 3 Hong Kong?
Our graph below shows the year-over-year development (in percentage points) of mobile EBITDA margin for a number of mature market operators that are mobile-only or report mobile-only figures.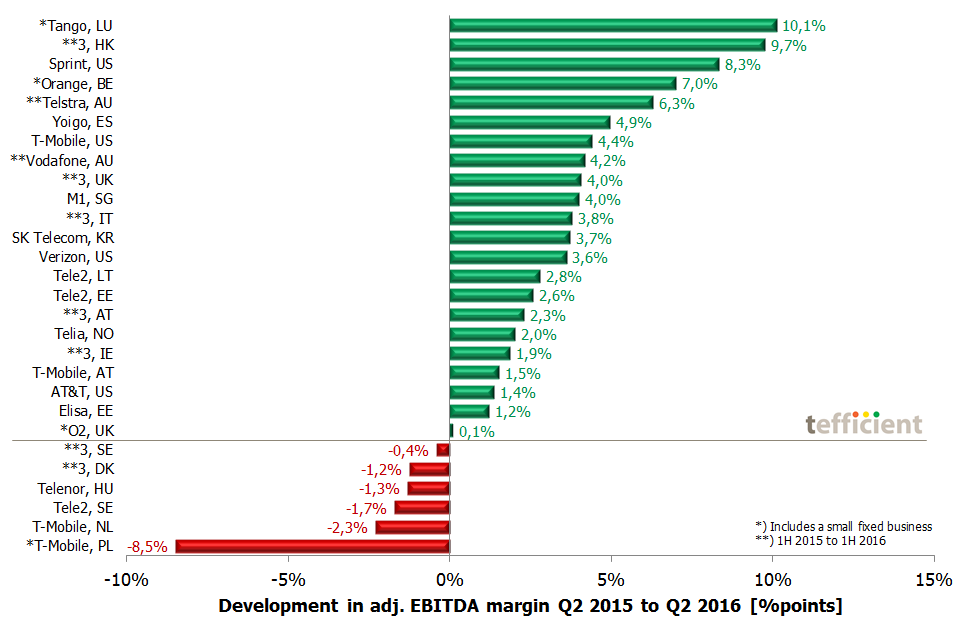 In the graph, you find 3 Hong Kong as number two from the top with its increase in EBITDA margin of 9,7 percentage points.
But more importantly 3 Hong Kong is not alone: 79% of the operators in the graph reported a higher EBITDA margin compared to last year.
So when the rumours now speak about a new iPhone being introduced 7 September, the operator world should perhaps hope for an unattractive iPhone 7?
Then less people would like to buy it – which is good for operator margin. And less people would churn – which is good for operator margin.