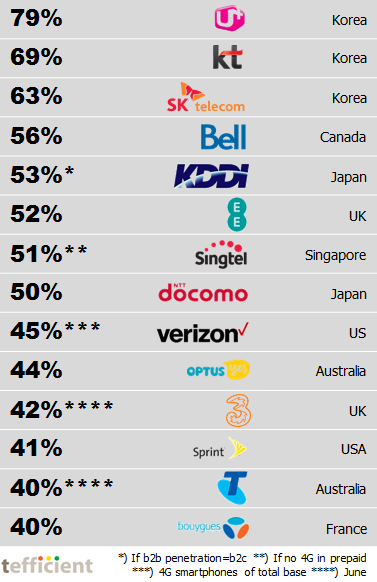 4G is rapidly becoming a mature market normality.
Our top list to the right shows the reporting operators of the world with more than 40% 4G adoption in their retail bases as of September 2015.
The three Korean operators LG Uplus, KT and SK Telecom lead. No news; this has been the case since the first days of 4G.
4th placed Bell from Canada is the highest ranked operator from the Americas.
6th placed EE from the UK remains the operator in Europe with the highest 4G penetration.
Our chart below (click to enlarge) continues the list to cover 43 reporting operators globally.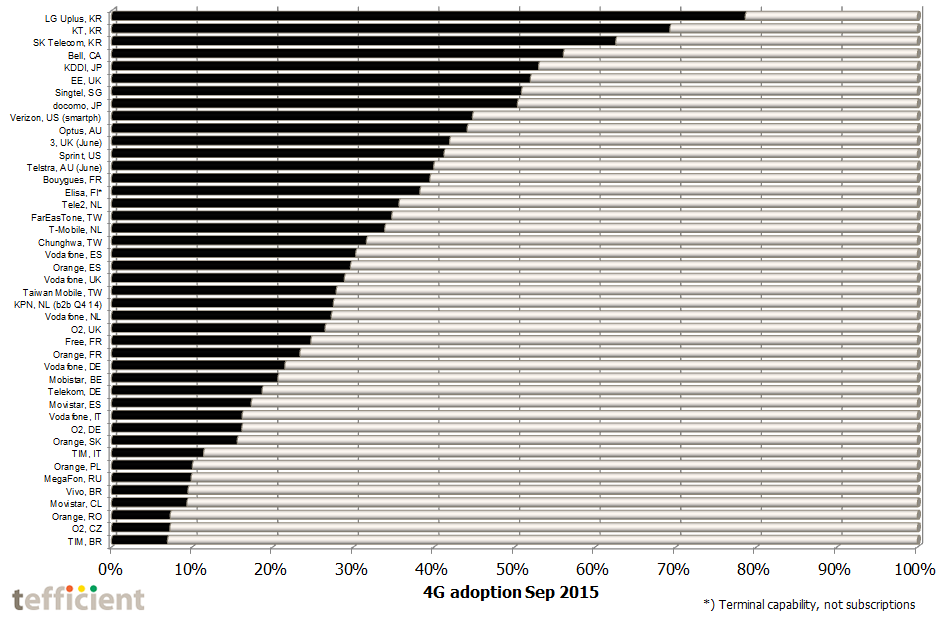 Since LG Uplus, KT, SK Telecom, Bell and EE are among the operators with the highest subscriber acquisition & retention cost (SAC/SRC) in the industry, a cynic would perhaps say that high 4G penetration is more about how much cash is being used on handset subsidy than true customer demand.
Deep pockets are however no longer the only way to reach a decent 4G adoption. One example is Free that improved its 4G penetration significantly in France to a level of 25% in September. It's higher than for Orange, the market leader – albeit behind Bouygues.
Free doesn't subsidise handsets; instead the company provides customers with 4G handset rental options so that more customers on the 19,99 EUR plan can afford to take advantage of the benefit of 50 GB of 4G data per month. With a 3G handset, that allowance is just 3 GB.
When will we see the first 2G/3G networks being shut down, then?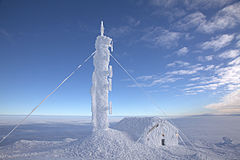 Korean operators are likely considering their shutdown options already: In the first half of 2015, 96% of the mobile data traffic in Korea was carried over 4G networks.
In most European countries, 4G has just passed 50% of the data traffic – meaning that 3G will (and needs to) be around much longer. Even though the number of European operators supporting VoLTE (4G voice) is increasing, it's still a minority. Another challenge is that even though VoLTE is launched by an operator, it doesn't mean that all 4G handsets held by their customers can use VoLTE – the way the operator has implemented it.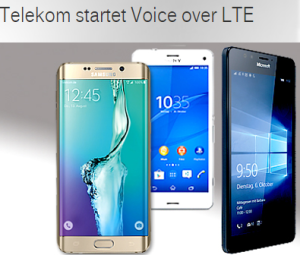 An example of this is Telekom in Germany that launched VoLTE yesterday: Only selected Samsung, Microsoft and Sony terminals are supported to begin with.
Reaching full VoLTE penetration – a prerequisite for 2G/3G network shutdown – is therefore a question of time. Or deep pockets. At a certain point, the cost to replace the remaining 2G/3G terminals of customers might be lower than the cost to continue to operate 2G/3G networks. In this squeeze-out context, M2M terminals might represent a bigger challenge than the handsets carried by humans: Millions of SIMs are today sitting in e.g. payment terminals, electricity meters and vending machines – terminals that only support 2G or 3G.