During the last decade, fixed-mobile convergence – FMC for short – has come to dominate how connectivity and entertainment are sold to households in European markets like Spain, France, Portugal, Belgium and the Netherlands.
In Spain, around three quarters of the households currently subscribe to an FMC plan covering at least fixed broadband and one or multiple mobile subscriptions. Often TV or other entertainment services are included too.
Initially FMC was sold with massive discounts and the base grew quickly as it was a no-brainer not to buy everything from the same operator. Churn levels were improved dramatically too when a churn decision no longer just affected one service for one household member, but many different services consumed by many different people. [Some find it easier to negotiate with an operator than with members of the family].
In later years, FMC ARPU increased much, driven by more content (and more expensive content such as football) in the mix. Eventually, the operator thirst for higher and higher ARPU might have been the start of a negative base trend for FMC. In the graph below, we show the FMC net adds for Movistar (Telefónica Spain) since the launch of its Fusión FMC product.
In the second half of 2019 Movistar reached "peak Fusión". The FMC base started to decline. This trend started before the COVID-19 lockdowns so we can't casually attribute this to just Corona – although COVID later must have had a negative impact on the interest of households for expensive FMC plans. By this time, Movistar's competition was in high gear and especially Másmóvil had aggressively been able to grow base in both mobile and fixed.
Finally, in May 2022, Telefónica decided to shut down Fusión after ten mainly successful years and replace it with miMovistar, a more flexible FMC product with more options and less preselected services.
But in Scandinavia, where fibre networks are as well spread as in Spain and mobile usage habits are even more developed, operators have been quite reluctant about the idea of FMC plans.
Sweden
Sure, Telia Sweden launched something called Telia Life in September 2017, but it was only when Telia's competitor Tele2 merged with Com Hem by the end of 2018 – and immediately put together a somewhat similar FMC benefit proposition – that Telia started to regularly report its base on Telia Life.
Since Q3 2021, neither Tele2 nor Telia have reported their FMC customer bases in Sweden. A sceptic might think that it happens because the base growth stalled. Yet in Q3 2021, 33% of Tele2's fixed broadband customers had combined it with mobile whereas 29% of Telia's fixed broadband customers had done it. It's not near Telefónica's 80% in Spain at the same time, but neither Telia nor Tele2 are giving any discounts.
The table below shows the Swedish FMC offers as of today. Both Telia and Tele2 selected not to reward FMC customers with a discount but instead allow them to select from a menu of value added things that they produce themselves:
More mobile data
Faster fixed broadband
A free mobile broadband subscription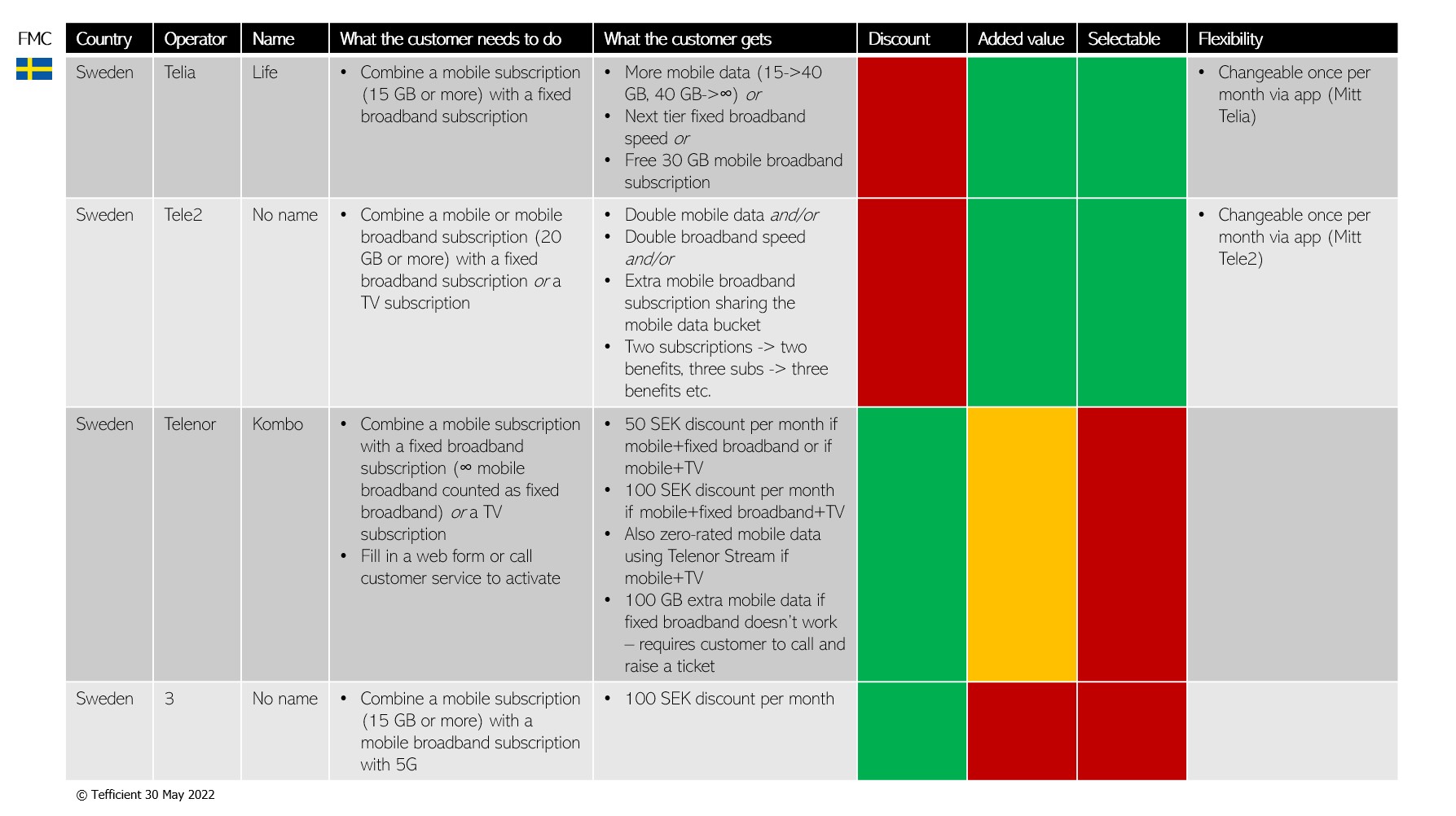 Telia's and Tele2's customers don't need to do anything more than buying the services to be able to select which of the value added things they want. Even better so, they can change what they want on a monthly basis via the usual customer app.
Telenor and 3 have however chosen the discount track. In Telenor's case, the customer needs to tell Telenor that he/she is now a "Kombo" customer to get the discount. Although Kombo was launched in May 2018 [before the Tele2/Com Hem merger], Telenor has never reported how many Kombo FMC customers it has.
3 has just launched what effectively serves as its broadband offer – an unlimited 5G FWA plan. Regular mobile customers of 3 get 100 SEK discount on this plan [299 SEK instead of 399 SEK].
Denmark
Over to Denmark where YouSee (everyone still thinks of them as TDC) for a long time has had something called YouSee More. Customers who combine two or more subscriptions can monthly select between numerous extras including 2x mobile data, streaming services and an IT security package.

But how disappointing then that YouSee's mother company Nuuday downsized the number of selectable extras from ten to five in September last year. But in honesty, YouSee stripped off extras that won't be missed by many.
YouSee is still the king of the FMC hill in Denmark, though. They are actually alone on that hill. Neither Telenor, Telia nor 3 have any FMC plans or benefit arrangements (just multi-user mobile). This is the case although Telenor has FMC in Sweden and Norway, Telia has it in Sweden and Norway and 3 has it in Sweden.
Norway
Finally to Scandinavia's ARPU hotspot, Norway. The operators have here tactically avoided to give discounts to multi-product customers.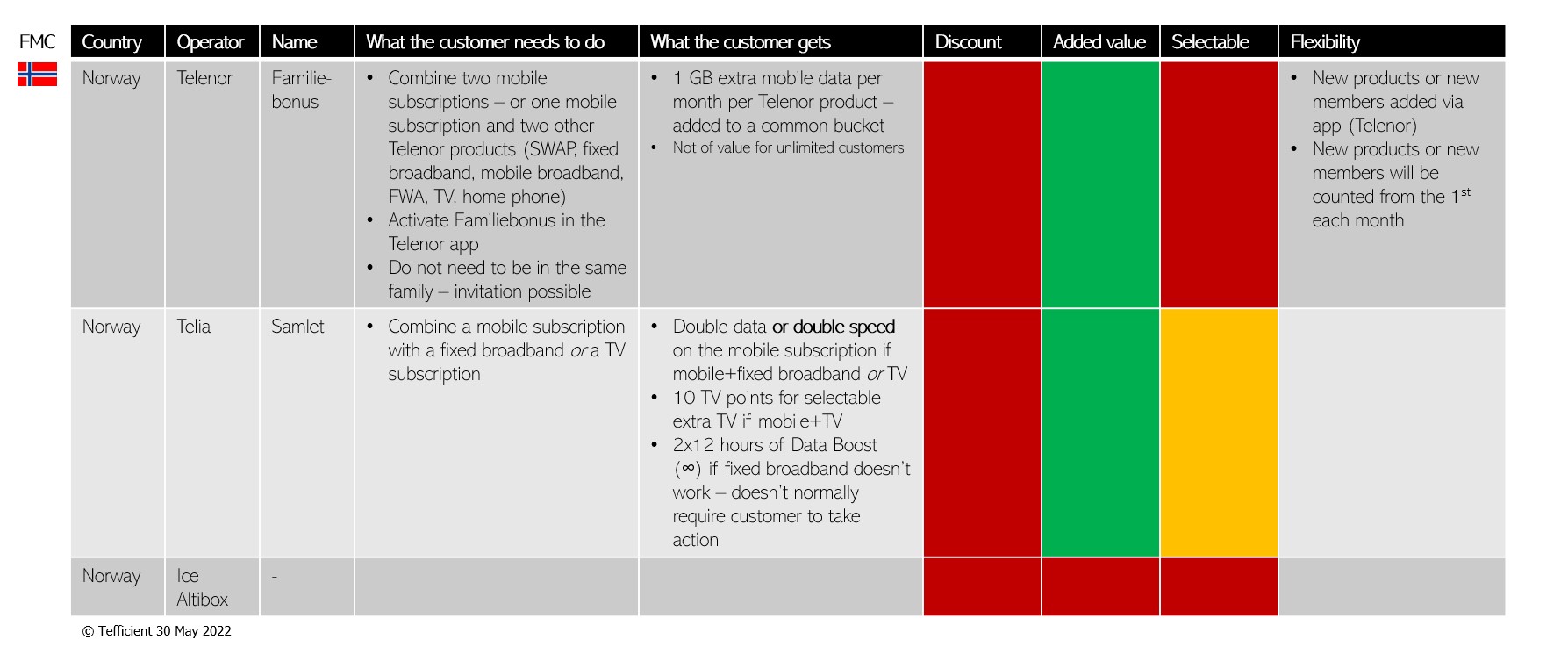 Rather than giving money away, Telenor's approach is to give bonus gigabytes: 1 GB per product per month. Familiebonus is clever – apart from the name perhaps, as it isn't just for families – as the main subscription owner can decide what products and whom to include in the 'family' account. It can be anybody. Even mobile business subscriptions can take part (although they just trigger more gigabytes for others as they themselves can't use them). All this managed in the regular Telenor app.
The bonus data is gathered in a pool freely accessible for all in the account.
Telenor did however in June 2020 launch a series of speed-tiered unlimited mobile plans. For customers on these premium plans, Familiebonus isn't of much value, though. If you already have unlimited mobile data, 1 GB of extra data doesn't make you happier.
Telenor's competitor Telia has a solution for that. Customers who combine mobile with fixed broadband or TV can choose either 2x mobile data or 2x mobile speed. The latter should resonate with their unlimited, speed-tiered, mobile customers.
Finally the newly formed Ice+Altibox. Or should we say Ice+Lyse? Because although Lyse owns most of Altibox-branded operations, they do not own all. Let's see if this hinders the new, merged, company to either launch an FMC product or some sort of combination benefit proposition along the lines of what has become popular in Scandinavia. Since Altibox now has as many fixed broadband (it's all fibre) consumer customers in Norway as Telenor (across all technologies) and Ice has as many mobile customers as Altibox has fibre customers, the combination of the two could become quite powerful and change the competition dynamics in Norway.
In summary
It might well be so that some of the first FMC-pushing operators like Telefónica have finally emptied the FMC pond, but FMC marches on in the rest of Europe. It might not have a positive effect on revenues overall – there is a tendency to want to give discounts – but it has proven to reduce churn and thereby costs for operators. It has also proven itself as a catalyst for fibre broadband sales.
Hence we think it makes sense for Scandinavian operators to take a closer look at FMC. A share of the market do not mind putting all eggs in one basket, but they might need some well-designed nudging.