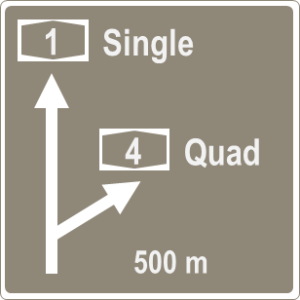 Quad-play isn't new: Five and a half years have elapsed since Orange launched its converged product Open in France in August 2010. It's soon been three and a half years since Telefónica launched Movistar Fusión in Spain in October 2012.
Telefónica and Orange are quarter after quarter showing investors and analysts figures that show great take-up of these converged services.
But have the quad-play products driven growth into the total bases?
Let's start with Movistar in Spain.
Since the launch of Fusión, Movistar has lost about 3.5 million SIMs, but most of these have been prepaid. Postpaid has fared better and Fusión has contributed to this (see dotted green line); Fusión SIMs today represent 45% of non-M2M postpaid SIMs in Movistar.
But – and here's the point – there's been no growth in the total postpaid base. Movistar's postpaid customers appear to have replaced one subscription with another. At the same time, prepaid customers have left Movistar – most of them joining Movistar's competitors.
If we look at the blue lines, we can see that Movistar hasn't had much growth in the total fixed broadband base either – even though Fusión has grown to represent 70% of all fixed broadband connections. Again it seems as if Movistar's customers replaced one subscription with another.
We have previously questioned the underlying demand for quad-play – where triple-play is a household-oriented proposition, mobile is a proposition for the individual – and concluded that discounts play a very significant role in quad-play take-up.
It took Telefónica too long to realise that mobile-only remains a large and important market even for an operator that goes for quad-play – and the recent improvements in Movistar's mobile performance should be attributed to their revitalised mobile-only plans that (finally) were introduced in the end of 2014.
If we draw the same graph for Orange France, we see a bit more positive picture.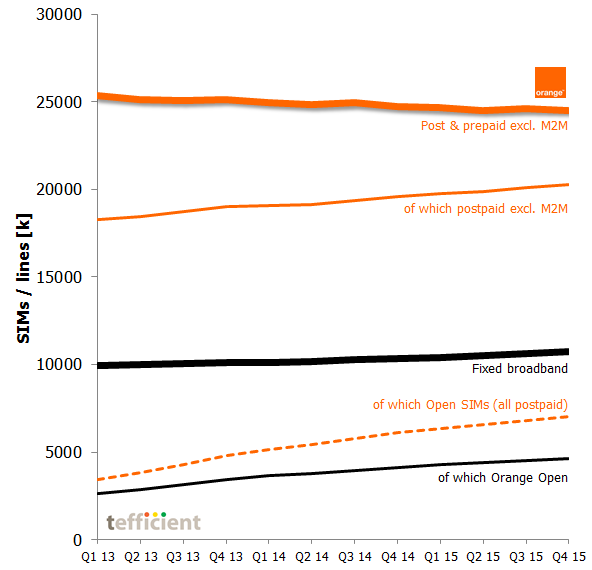 Also Orange has lost mobile customers, but unlike Movistar, Orange has been able to grow mobile postpaid base using Orange Open as a driver. 35% of Orange's non-M2M postpaid SIMs are today part of an Open subscription. It's lower than Movistar's 45% and then we should remember that Orange Open has had a two year longer lifetime than Movistar Fusión.
Orange has also had a better development of the total fixed broadband base even though "just" 43% of Orange's broadband lines are on Open – compared to Movistar's 70%.
Looking at these two examples – from two large operators who have long history in quad-play – we conclude that even though quad-play growth per se can be fast, quad-play isn't an engine for total base growth.
But for incumbents like Telefónica and Orange, it might be a fairly effective tool to defend base. If discount is one key element in quad-play, lock-in is another: Quad-play means lower churn – since also mobile subscriptions are now bundled into a binding contract.