After 14 years, BT is back into consumer mobile. The long-rumoured launch of BT Mobile happened today.
BT's proposition isn't bad: It is actually more disruptive than one could expect from a fixed incumbent – who has to rely on an MVNO agreement with EE. At least for some time: You haven't missed that BT wants to acquire EE?
When BT through their mobile launch now becomes a converged quad-play operator, they are not fooling themselves believing that there is any actual customer demand for convergence as such: Instead they follow the road which has proven to work in case you want to acquire converged customers: Discounts.
If your household has a fixed broadband line from BT, every BT Mobile plan comes with a 5 GBP discount. Note that you don't need to be a BT Broadband customer, it's sufficient that someone in your household is. You can have up to 5 mobile plans per account, but there is no limit on how many such plans there are per household.
For BT's 7,3 million retail broadband customers, this is obviously attractive. BT's tactic follows how they provide BT Broadband customers with free access to BT Wifi through more than 5 million homespots plus numerous public hotspots.
It follows how they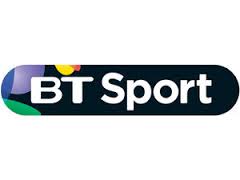 provide BT Broadband customers with free access to BT Sport which includes exclusive (and very expensive) rights to a big chunk of Premier League football games.
But does this mean that BT Mobile is worthless as a stand-alone offer – without the 5 GBP discount?
No. And that's why we find it surprisingly disruptive.
This chart compares the price points of UK mobile plans as of today: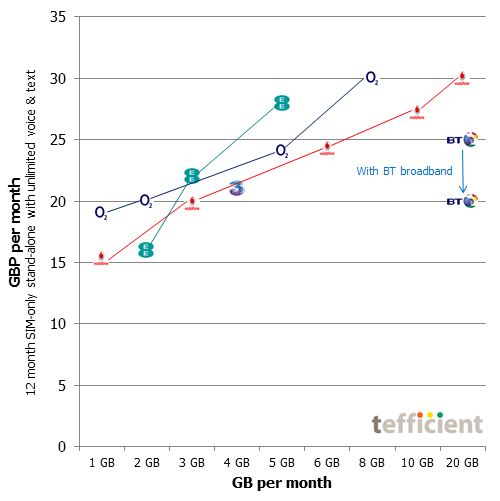 In order to make an apple-to-apple comparison we have compared the current prices of a 4G SIM-only mobile plan including unlimited voice and messaging on a 12 month contract. (It's disappointing that BT only provides the option of 12 months when their competitors allow month-to-month SIM-only contracts).
With BT Mobile, there is one such plan: Stand-alone, it is 25 GBP per month including 20 GB of mobile data. With BT's competitors EE, O2, Vodafone and '3', 25 GBP would only bring you about 4-6 GB per month (note that '3' has an unlimited plan for 27 GBP though). In addition, BT gives also stand-alone mobile customers unlimited access to BT Wifi and free access to their BT Sport app, allowing customers access to that exclusive content. No need to have BT Broadband any longer to get it.
If leveraging the 5 GBP discount given to those living in a BT Broadband household, the price for the 20 GB plan becomes very competitive: 20 GBP would just give 2-3 GB of mobile data per month with the others.
The question is if BT has preempted their acquisition of EE. That deal might after all not be approved. Could BT offer as low mobile rates as MVNO and still be profitable? An indication of that they might have preempted EE is their decision to include 4G even on the cheapest 10 GBP mobile plan (5 GBP with the BT Broadband discount). This is not how it has been done previously in the UK and BT might have chosen this approach to avoid being too disruptive vs. EE's customers (who already have 4G).
We believe BT's approach will allow them to quite rapidly build mobile market share – without EE.
To BT's benefit, the UK market has during the past two years taken steps towards higher flexibility in contracts with month-to-month service options and with handset sales on instalments (O2 Refresh). The fact that fewer mobile customers in the UK are totally locked-in on contracts, provides BT with an opportunity to churn them over.
Obviously, competition will respond.