Ericsson ConsumerLab published its latest report today.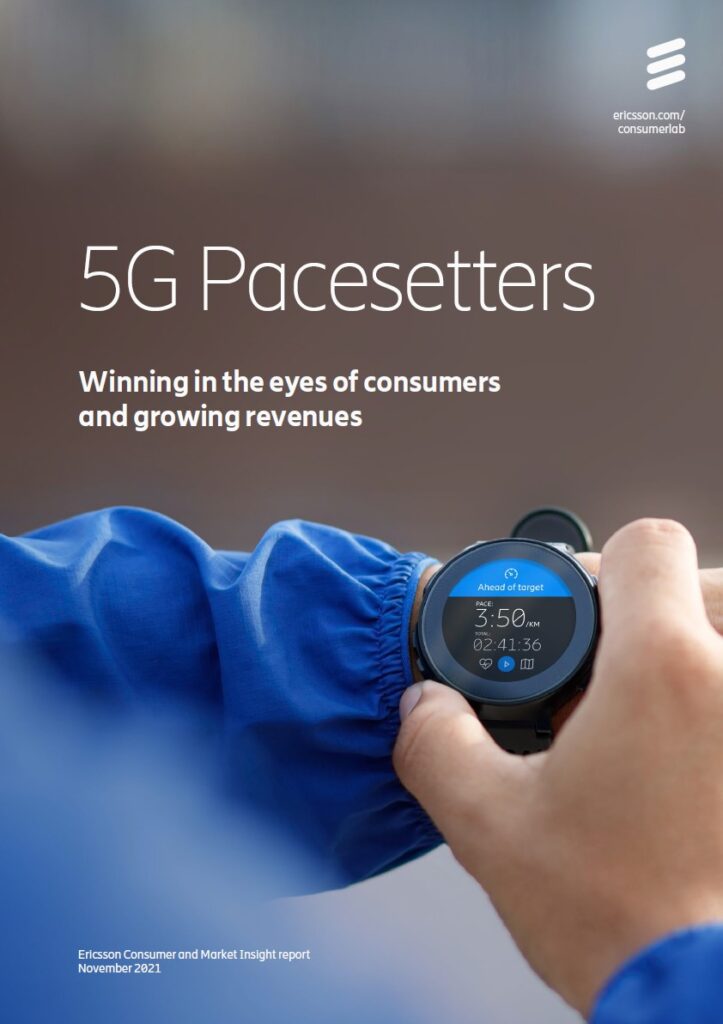 The 5G Pacesetters report is the public outcome of a very ambitious project to design and analyse an index that measures both the 5G market performance and the consumer perception of 73 operators across 22 markets globally. Each 5G operator was analysed based on 105 criteria across 16 categories – from customer satisfaction to 5G offering, rollout and marketing efforts. It's the first time a 5G index takes consumer satisfaction and consumers' 5G leadership expectation into account.
Tefficient worked with Ericsson ConsumerLab throughout this project.
Based on the index outcome, four stages of 5G maturity were identified:
5G Pacesetters
5G Aspirationals
5G Potentials
5G Explorers
You can see how the 73 operators are positioned in the figure above where the consumer satisfaction and perception score (max 50) is found in the vertical axis and the 5G offering, rollouts and efforts score (max 50) is found in the horisontal axis.
Roughly 20% of the operators were identified as 5G Pacesetters. Key characteristics of an average 5G Pacesetter are:
Perceived as 5G market leader by close to 70% of its own and 40% of all consumers in its market
75% reported population coverage on 5G with download speed of 270 Mbit/s and 5G smartphones being 14% of time on 5G
An average of three launched '5G' services such as cloud gaming, VR/AR or enhanced video, often delivered with local or global partners
Strong 5G device portfolio extending beyond smartphones with 70% having extending wearables enabling immersive viewing experiences
5G standalone and MEC commercially deployed by one third of 5G Pacesetters
50% have commercially launched 5G FWA
About 75% monetise with 5G premium tiers based on speed, content or quality of service
Seen as best-in-class brands, with consumers scoring them 32% higher on perceived brand visibility and quality versus others in the market
The report shows how the average 5G Pacesetter is being rewarded with better-than-average growth in mobile service revenue and ARPU.
What strategies have then the 5G Pacesetters applied?
The six strategic options shown above are for anyone to choose from and apply – but 5G Pacesetters tend to more often apply all of them.
The same can be said for 5G Aspirationals, although they have been slower to launch innovative 5G services and unable to drive 5G leadership perception in the same way as 5G Pacesetters.
5G Potentials and 5G Explorers are yet to apply these strategies – today focused on the first two (01 and 02) mainly.
The report also identifies the paths to emerge as a 5G Pacesetter. Having said that, even the 5G Pacesetters can improve; the highest total index among the 73 operators is 62 where the maximum is 100. For non-Pacesetters and Pacesetters, a few cases are mentioned in the report as inspiration:
Swisscom
T-Mobile
FET
Telstra
Singtel
Telekom
Verizon
Elisa
EE/BT Sport
SK Telecom
Read a summary of the report here. From this page you can also download the full public report.
There's also an Ericsson press release introducing the report and some of its findings.