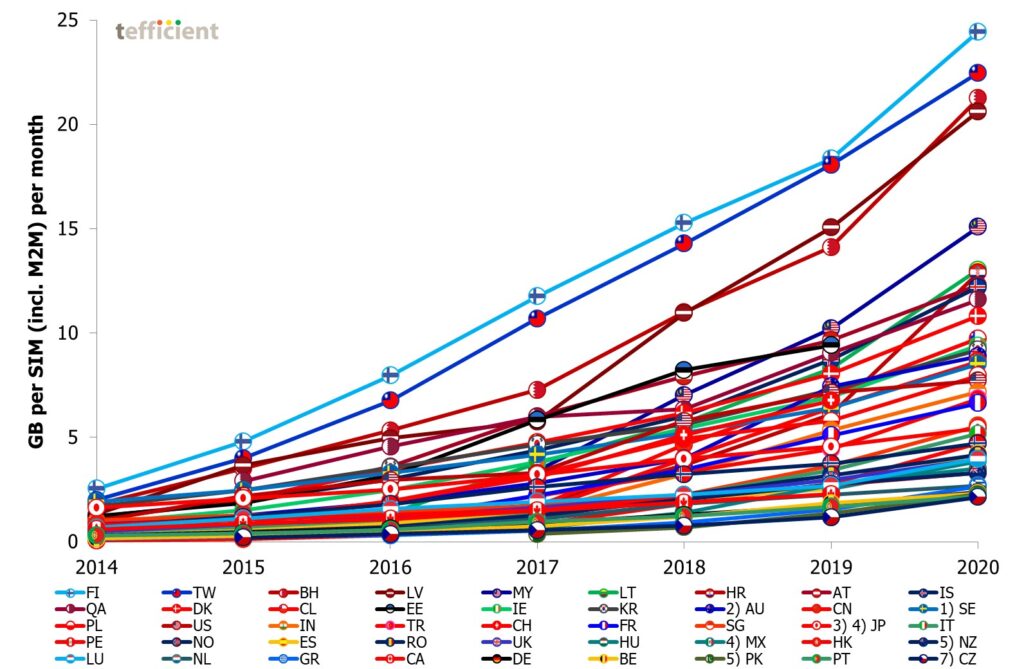 Tefficient's 31st public analysis of the development and drivers of mobile data compares 45 countries from all regions of the world. The pandemic affected us all but although we to a high extent spent the year in our homes, mobile data usage increased in every single country. Mobile data is apparently not just used by people on the move.
Generally speaking, the growth accelerated in 2020; only a few countries experienced a slower growth rate.
Finland, Taiwan, Bahrain and Latvia lead the world in average data usage per subscription. But with 111%, Croatia leads the world in usage growth. USA, Australia and the Netherlands had the slowest growth. In these countries, home Wi-Fi seems to have offloaded mobile data.
Data-only defines the average mobile data usage although the share of base is limited. This is old news, but we believe that the pandemic fuelled the usage of data-only subscriptions as these often are used as a substitute to fixed broadband. The pandemic drove the overall internet traffic and mobile data-only got its fair share of that.
Using mobile data has never been cheaper but the erosion in the revenue per gigabyte varies a lot between markets. Croatia had the fastest erosion, 53%, and India the slowest with just 5%.
And how did ARPU then develop? To answer that, we present an updated Christmas tree graph.
---
Download analysis: Mobile data usage got a boost when we were immobile
Updated 31 July with:
2020 data for the US (previously 2019)
2020 data for up to September for Japan (previously to June)
2020 revenue data for Italy
The addition of Pakistan as our 45th market