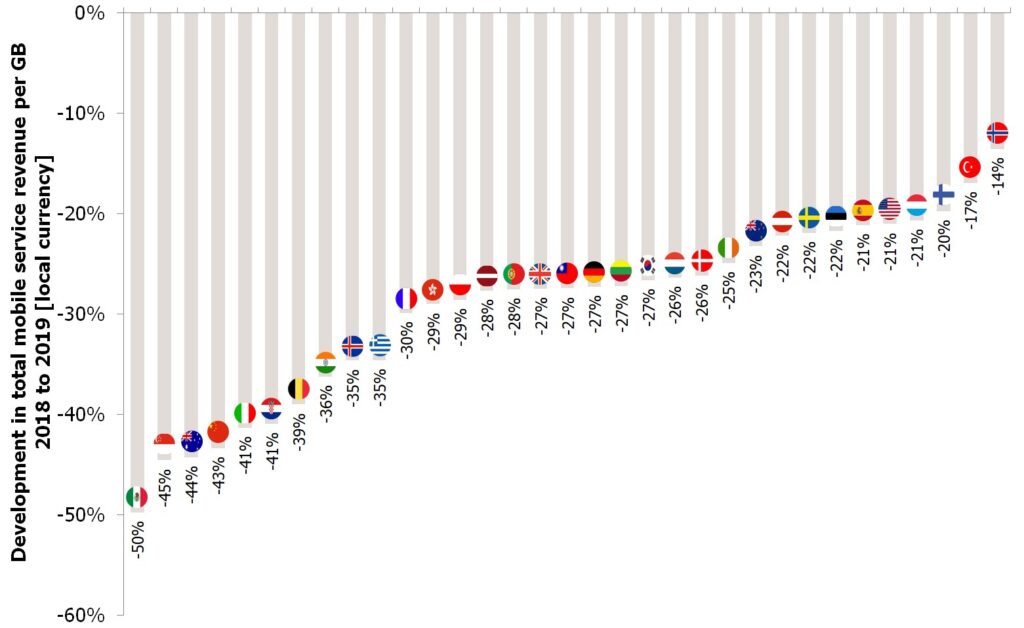 Tefficient's 27th public analysis of the development and drivers of mobile data compares 44 countries from all regions of the world. We say hello to the new additions Chile, New Zealand and Qatar.
Usage is growing in every single country, but few are able to turn this into ARPU growth. Too few.
Finland and Taiwan continue to dominate the rest of the world in average data usage per subscription. Even though unlimited represents a dominant share of subscriptions here, usage growth rates are modest. It's instead in Mexico where growth is the fastest. Norway, Sweden, Estonia and Japan have the slowest usage growth.
Using mobile data has never been cheaper but the erosion in the revenue per gigabyte varies a lot between markets. Mexico had the fastest erosion, 50%, and Norway the slowest, 14%.
ARPU grew in only a handful of markets although the gigabyte consumption never been higher. If we can't monetise gigabytes, then what?
5G helped Korean operators to re-establish growth, but will it help you?
---
Download analysis: ARPU doesn't follow usage upwards. If we can't monetise gigabytes, then what? Updated version 6 August with newly reported full year data for Poland – and with Qatar added.