Mobile operators are abandoning the previously predominant model to subsidize handsets and to, in return, lock customers in on long contracts with elevated service fees.
The death of the model should be mourned by no one since end-users have been given choice and flexibility through a multitude of non-binding, cheaper and flexible service options with generous – or even unlimited – allowances. Operators have seen customer churn decrease as end-users hold onto their handsets longer. As a direct consequence, EBITDA margins have increased.
Investors might still complain about the revenue growth, but measured as percentage of revenue mobile carriers currently produce the best margins on record.
With handset subsidization out of the picture, the network became the key differentiator for operators when trying to divert the end-user attention away from price.
This video and this 18 months old post summarises network marketing well:
It just that mobile networks – thanks to solid investments – today are better than ever before: The difference between the best and the worst network is smaller. In many mature markets, network quality isn't always providing sufficient differentiation.
Operators that have introduced unlimited (or at least more generous) data plans have realized that they are rewarded with loyalty: When end-users don't feel restrained, they stay. But they will also give operators more data to carry. There is an unabated demand for more data and what end-users like to do more of – if given more data – is video.
A new operator trend is therefore to subsidise end-users' video services or consumption
Subsidizing video services
One of the first examples of this was when Vodafone in 2014 – after having launched 4G in the UK – included one content service on their higher level Red plans. Three of the four services in the menu were video services: Netflix, NOW TV (Sky's 'OTT' service) and Sky Sports Mobile. Customers who bought the 8 GB bundle got the chosen service for the whole contract period whereas customers who took the 4 GB bundle got the service fully subsidized for the first 6 months.
Following the introduction, Vodafone proudly reported that the data usage for the customers who selected a content service was much higher than for those not having it. Even though Netflix soon was removed as an alternative, Vodafone UK is still today – three years later – having the same upsell logic in its plan menu.
Subsidizing video consumption
But operators don't need to subsidize video services as in the Vodafone case; they can instead subsidize the video consumption.
When T-Mobile USA launched Binge On in November 2015, the company started to zero-rate (but also throttle) a number of commercial video services such as e.g. Netflix, HBO NOW and Hulu. Also for T-Mobile, it was an upsell tactic as Binge On wasn't available for customers on the entry level plan.
A late follower is Three in the UK who in July this year launched Go Binge on its slightly more expensive Advanced plans that also bring tethering and 'Feel At Home' roaming:
Even though T-Mobile rapidly expanded on the number of zero-rated services, the introduction of the unlimited T-Mobile ONE plan in August 2016 still marked the beginning of the end for Binge On. At CES in January 2017, John Legere, the CEO of T-Mobile, declared the bucket plan dead by becoming the first US carrier to terminate the sales of all bucket plans, keeping only unlimited options. No need for zero-rating then.
Did this mean the end of video subsidization? No.
Subsidizing video in an unlimited context
Three month later, AT&T – in the process of acquiring HBO's owner TimeWarner – started to include HBO on its new Unlimited Plus plan. A straight-forward example of full subsidization: HBO will not cost customers anything as long as they stay on that plan. But again with an upsell logic: AT&T's customers on the lower-level Unlimited Choice plan, didn't get HBO. Didn't? Yes, read on.
In September, five months after AT&T's HBO initiative, T-Mobile is back into video subsidization with 'Netflix on us'.
T-Mobile integrates the Netflix fee on its bill – and waives it* – for customers on the T-Mobile ONE plan for as long as they stay loyal to the plan. T-Mobile sticks to an upsell logic: The condition is that the customer has at least two SIMs on the account (the average T-Mobile customer account had 2.92 SIMs in September).
*) Customers that subscribe to a premium Netflix plan, e.g. the 4K plan, pay the difference to the standard plan – not to Netflix, but to T-Mobile.
One week after 'Netflix on us', AT&T decided to give HBO away also to customers on the cheaper Unlimited Choice plan:

AT&T thereby stopped using subsidized HBO as an upsell trigger. All unlimited plans from AT&T now come with it.
Trending: Subsidizing original content
In Europe, there is another rampant trend: Telcos start to produce original content – while not necessarily attempting to monetize it directly.
In a way, BT could be said to have started this when the company in 2013 – piggybacking a very expensive exclusive purchase of broadcast rights for the English Premier League – launched its own sports channel, BT Sport.  The initial proposition was that BT broadband customers received BT Sport free of charge – an obvious example of subsidization. The spiraling cost of sports content eventually killed this, though: Also BT broadband & TV customers today have to pay something for BT Sport. The only way to get BT Sport fully subsidized today is to take one of BT's premium mobile plans (on BT Mobile; not on the BT-owned EE brand), but then you will just be able to watch it on your smartphone.
But the newest kid on the block is telcos' original production of TV series. Suddenly, all European telcos seem to want to do this. When the early-movers such as Finland's Elisa and KPN from the Netherlands produced their own first original series – Brussel for KPN and Downshiftaajat for Elisa – it seems to have triggered others to follow: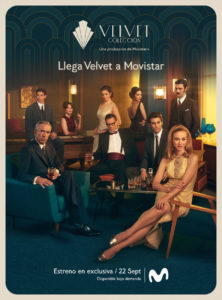 Telefónica: Velvet Colección had its premiere in September 2017 and will be followed by many other series such as La Peste in 2018. Telefónica has expressed an ambition to become the world's leading provider of Spanish content and will thereby take a head-on fight with Netflix that has targeted to increase its production of series in other languages than English.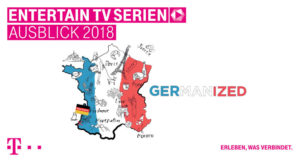 Deutsche Telekom: Germanized, a culture clash comedy, will be the first original series from Telekom. It is scheduled to premiere late 2018.
Altice: The group – owning operators in e.g. France (SFR), Portugal (MEO), Israel (HOT) and the United States (Cablevision, Suddenlink) – is making a serious attempt on original content. In August it launched Altice Studio, its own series and films channel in France. Altice is also in the process of acquiring Media Capital, Portugal's biggest media company.
Liberty Global: The Rook with premiere in 2018.
While these four groups are gearing up, the early-mover KPN has continued to produce new originals such as B.A.B.S., TOON, and De mannentester.

And don't think that Elisa has cut down on its original content production either: The telco has produced a Finnish version of The Office, Konttori:

Another original is Pää Edellä. And Elisa is currently filming a new co-funded thriller series, Arctic Circle.
Return of investment?
Since the cost to produce original content is known to be sky high, it would be interesting to see the Excel sheets in which telcos did their return of investment calculations.
The models how telcos will deploy their original content will vary. Some will, like BT originally did, make it available exclusively to existing customers – using it to trigger sales and as a method to mitigate customer churn on basic telco products. It could work, but it would really require exclusive content of unparalleled quality.
The challenge might be that even if your content is good, the word will not spread unless your content is widely available. Some operators are therefore – like Elisa and KPN – in parallel selling a stand-alone 'OTT' subscription which isn't bundled to the operator's broadband (fixed or mobile) service. You can thus pay to see the original content without buying anything else from Elisa or KPN. This model provides a revenue upside and a higher probability of reaching a wider audience but it doesn't lower the churn of the operator's telecom products.
Operators are also working with wholesale models in which their original content becomes available also to customers on competing platforms. Pretty much immediately, BT Sport was made available also to Virgin Media customers who paid a premium. Eventually BT Sport became an option also for Sky customers.
As in any content production, co-funding is another possibility.
Show us the money
Until we are being shown the figures, we believe that telcos haven't been as critical to the original content business case as they are when it comes to investments in their networks. For many, it is a trial ballon. Operators hope that there might be something in it and are willing to subsidize the video consumption of their customers as long as they think it leads to lower churn.
But similarly as with handsets we believe operators should be transparent with the level of subsidization that happens within video. We would therefore urge operators to start breaking out the revenue and cost of content in their P&L statements.
Even more so for operators involved in original content production:
With so many telcos launching original content – Telefónica, KPN, Proximus, Elisa, Altice, Telekom – could everyone please add two lines to their P&L statements: Revenue of original content, Cost of original content? pic.twitter.com/7WrNgrmqTg

— tefficient 🚥 (@tefficient) November 7, 2017
Video subsidization better than handset subsidization?
Even if we have a made a few cost reservations above, we currently lean towards the view that subsidization of video is better than subsidization of handsets. The latter proved not to have any positive effect on churn – the churn levels decreased significantly when the US carriers moved to installment plans – whereas video subsidization at least could have a positive effect on churn.
Start reporting the figures and we promise to track it.