Dutch operators KPN and Vodafone were both fined for violations of net neutrality today.
KPN got a fine of 250000 EUR for having blocked access to voice over IP services on public Wi-Fi hotspots. Vodafone was fined 200000 EUR for having zero-rated content from HBO.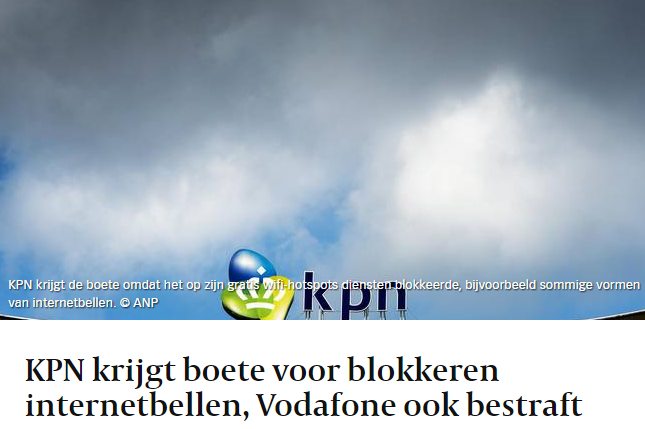 From de Volkskrant: "KPN fined for blocking Internet calling, Vodafone also punished" (click picture to read)
On one hand, it is not surprising that this happens in the Netherlands: There is a net neutrality law in the Netherlands since 2012.
On the other hand, it is surprising that it happens. Already in 2011, KPN and, later, Vodafone started to block mobile access to voice over IP and messaging services – unless customers paid extra. The reaction from the public was immediate and very negative.
Consequently – in record speed – the Dutch parliament prepared and passed a net neutrality law. It came into effect 2012 but was respected by the operators later in 2011 . Without KPN's blocking in 2011, there wouldn't likely have been a law today. Any publicity is good publicity? Not in this case.
So much more surprising then to see KPN coming back to VoIP blocking. Once again, their brand will be associated with practices with have a very negative sentiment among the public.
This time KPN's blocking didn't happen in mobile, but in Wi-Fi, but if we reflect over what has changed since 2011, we realise that it doesn't really matter.
In 2011, voice minutes and SMS messages were monetised per minute and per message whereas mobile data often wasn't charged per Mbyte. Services like Skype and WhatsApp thus represented a threat to KPN which consequently blocked them.
In 2015, most mobile plans include unlimited voice and SMS but mobile data is charged per Mbyte. There's no reason to block VoIP or messaging services (law or not) since they generate revenue for operators.
But KPN is fighting a two-front war:
On one hand, KPN needs to do what their mobile competitors T-Mobile, Vodafone & Tele2 do: Sell more mobile data
On the other hand, KPN needs to do what their fixed competitor Ziggo/UPC does: Build free Wi-Fi
In an attempt to catch up on Ziggo/UPC's about 1,7 million Wi-Fi hot- and homespots in the Netherlands, KPN has enabled more than 560000 Wi-Fi homespots and 3500 hotspots in the Netherlands. These are free to use for KPN's customers. You don't need a mobile subscription from KPN to use them – a fixed broadband subscription qualifies you.
KPN's Wi-Fi is of course offloading mobile data traffic, leading to less mobile data volume to monetise. But KPN has likely deemed it being a "necessary evil" in order not to lose fixed (and TV) customers to Ziggo/UPC.
So far, it has been difficult to be Wi-Fi only; almost all customers realise that they need mobile voice. The emergence of Wi-Fi calling is therefore a headache for operators like KPN: Some customers don't need a mobile network at all. They can go from Wi-Fi first to Wi-Fi only.
With a KPN fixed broadband connection at home, the household members can log into KPN's Wi-Fi using their smartphones or other mobile devices – and they don't need a SIM. For the largest mobile operator in the country – KPN – this represents a threat. KPN's decision to also rollout Wi-Fi is speeding this trend up, not slowing it down. And this is likely why VoWiFi (voice over Wi-Fi) was blocked.
From NOS: "KPN and Vodafone get fines for blocking and favouring" (click picture to read)
It will be interesting to follow who will benefit of the revived net neutrality publicity in the Netherlands. Our belief is that KPN – who is the incumbent, the market leader and "the bad guy" of 2011 –again will suffer the most. Vodafone's breach is likely not regarded as a hostile one by the public; their customers having watched zero-rated HBO have benefited, not suffered.
But – as last time – the winners should be those that didn't take part.