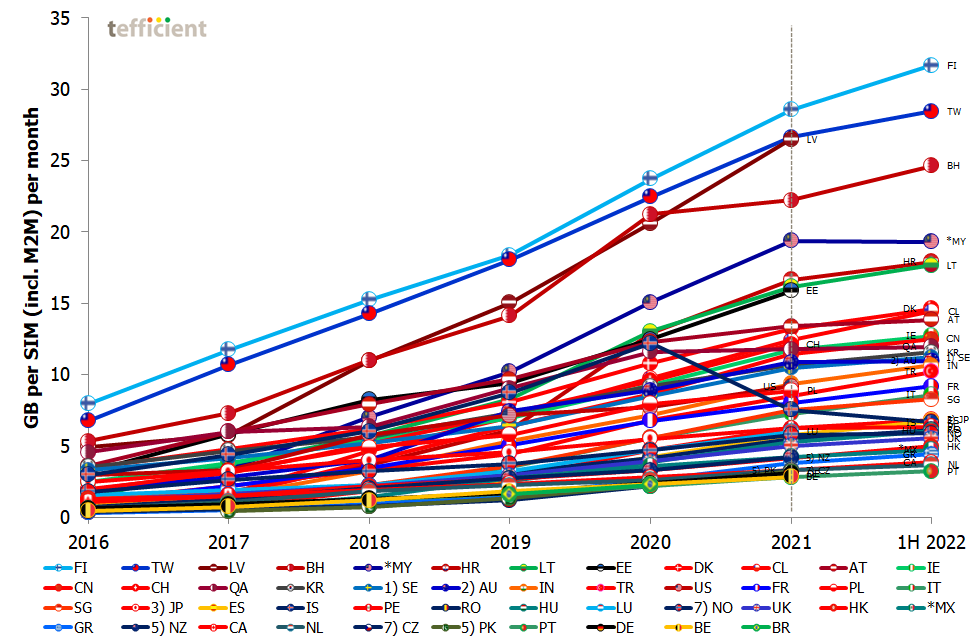 Tefficient's 35th public analysis of the development and drivers of mobile data compares the trends of 46 countries from around the world. In our previous reports, we observed that the pandemic drove an increase in mobile data usage. However, during the second half of 2021 and into 2022, the demand for more mobile data slowed.
Greece experienced the fastest growth in mobile data usage, with a 45% increase. On the other end of the spectrum, Qatar, Peru, Malaysia, and Austria saw unusually slow growth rates of just 1-3%.
Data-only continues to define the average mobile data usage, although the share of base is limited. Austria became the first country to reach 100 GB per data-only SIM per month, closely followed by Finland.
Overall, mobile data usage has never been cheaper, but the erosion in revenue per gigabyte slowed compared to previous reports. Greece saw the fastest erosion at 29%, while India reported an increase.
The positive ARPU development seen in our previous analysis did not continue in the first half of 2022. Mobile data usage grew at a slower rate, and a lower share of countries were able to improve their ARPU. Given the rising inflation starting in the latter half of 2022, we had hoped that the ARPU improvement trend from our last analysis would continue.
---
Download the analysis: Further slowdown in data usage growth causes positive ARPU development to soften
Updated 5 December with 1H 2022 data for Australia and Iceland
Updated 12 December with 1H 2022 data for Romania and Portugal (latter still missing revenue for Q2 2022, so just Q1 2022 for revenue)
Updated 16 December with 1H 2022 data for Denmark and new 5G and updated M2M numbers from the UK
Updated 27 December with 1H 2022 data for Japan and Qatar and Q2 2022 revenue for Portugal
Updated 9 January 2023 with 1H 2022 data for Greece and Q1 2022 data from Mexico.