Ericsson ConsumerLab today published a new consumer and industry insight report titled Towards a 5G consumer future.
The research insights are based on a survey of 14000 Android and iOS smartphone users between 15 and 65 in fourteen countries: Argentina, Brazil, China, Egypt, Finland, France, Germany, Indonesia, Ireland, Japan, Mexico, South Korea, the UK and the US.
To prepare this consumer research, we worked with Ericsson ConsumerLab to analyse and benchmark the mobile data strategies of operators globally. When we had the research results, we jointly reviewed them.
The findings can be summarised in six calls to action – from consumers for operators:
Provide us with an effortless buying experience
Offer us a sense of unlimited
Treat gigabytes as currency
Offer us more than just data buckets
Give us more with 5G
Keep networks real for us
Familiarise yourself with the full material from Ericsson. Below we highlight a few findings that we think are particularly interesting – especially those that challenge the 'conventional wisdom' of our industry.
---
"Provide us with an effortless buying experience"
Around 60% of smartphone users find it complicated, confusing or difficult to understand the mobile data plans of operators:
Even though the situation is a bit better to the right in the graph – in the US, the UK, Germany, Mexico and Finland – the figures aren't low there either.
A majority of consumers are unaware of how much data they have and how much data they use. This leads to a mismatch:
25% of heavy data users buy too little data for their need
60% of light data users buy too much data for their need
Half of all users overall say that they experience data plan distress and limit their usage due to the fear of being hit by overage fees. Which leads us to the next call to action.
---
"Offer us a sense of unlimited"
Here's the first myth that the Ericsson ConsumerLab research busts: 70% of users on unlimited data plans are not in the heavy user category. Most users on unlimited mobile data plans still used 2.5 times more Wi-Fi than cellular data – even though they shouldn't need to.
The research shows that the primary motivation for consumers to buy unlimited plans isn't to consume a lot. It is instead peace of mind that these consumers are after – reducing the fear of receiving penalties when exceeding data allowances.
Smartphone users are not necessarily looking for limitless data plans but rather a sense of unlimited
That sense of unlimited could be offered through rollover of unused data – 32% of consumers on bucket plans prefer this. It could also be provided through zero-rated services. Or it could for instance be as simple as just giving consumers the flexibility to change data allowance monthly – 12% prefer this:
The bucket plan is not yet extinct; it just needs to evolve
While in the myth busting mode, the survey also shows that users on large enough capped plans are equally happy with the network performance as users on unlimited plans. This is different than the US specific findings reported by J. D. Power: That unlimited customers have a much more positive perception of their network's quality.
---
"Treat gigabytes as currency"
Consumers are overly worried about their data allowances. Only 15% of the surveyed smartphone users with capped data actually exceed their allowance. By contrast, 41% consume much less data than what they have bought.
Consumers want to treat unused gigabytes as they would treat their extra money
76% of the surveyed smartphone users with data left want the unused data to roll over. 44% of them are even willing to pay for it. And here's a small myth busted: Even if they could, they are less likely to share their unused data with family members or friends – a proposition quite a few operators support and even charge for. Rollover is king, but only 19% of the smartphone users in the survey have it.

Image from Indosat Ooredoo. "Sisa kuota" is Indonesian for "Remaining quota" and the image captures the consumer sentiment of the survey.
---
"Offer us more than just data buckets"
The pie chart below shows that operators by just offering three things can address half of the importance that the global smartphone users assign to various features when choosing a new mobile data plan:
Highest internet speeds
Rollover of unused data to next month
No penalty for exceeding mobile data allowance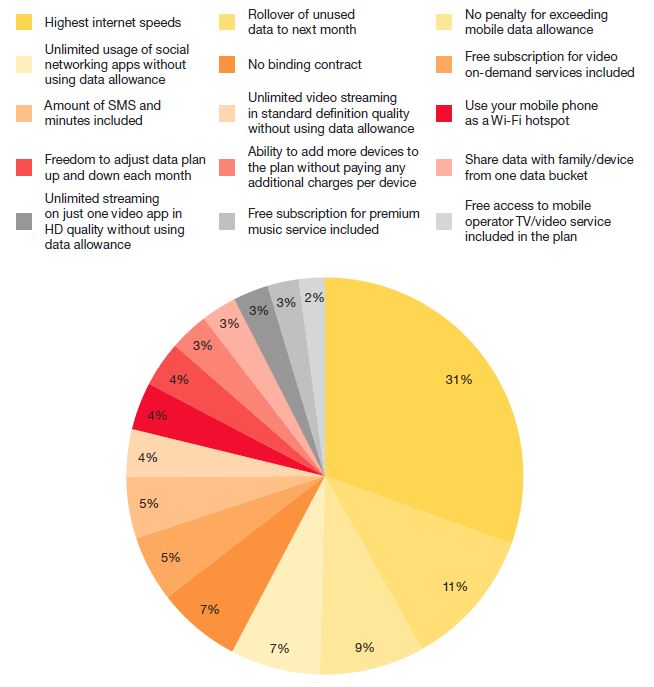 The preferences can however be different for different markets and we encourage operators in the fourteen surveyed countries to reach out to Ericsson ConsumerLab to agree on further sharing.
The interest for mobile-video convergence is still overall quite low. This is an area we at tefficient believe in for the future – see e.g. our prediction #1 for 2018. In the survey, there is an indication of that the preference might change in favour of mobile-video convergence; the video-centric users – streaming 3 hours of video or more per day and typically found in mature markets – are twice as likely to value inclusive video:

---
"Give us more with 5G"
5G isn't here yet, but the research shows that consumers are interested – and that's a good start. But the expectations are high – not to say sky high. In part this is because only half of the smartphone users globally say that their expectations on network performance are met. Consumers might feel that 5G is needed to fulfill them.
What we find interesting in the results is also that 57% of the smartphone users want to see the elimination of the bucket plan in 5G: Per-gigabyte charging should be replaced with a fee for each 5G service or for each 5G device.
---
"Keep networks real for us"
The final call for action excites us. Consumers want their operator to have the best network. But what drives the perception of the best network?
Well, it's not what operators say. The graph above shows that only 4% of the smartphone users surveyed think that operators' ads and marketing are the most credible sources of information. An equally low 4% think that a report coming from an operator is the most credible.
So if consumers don't trust operator statements on network quality, who do they trust? 46% think that their own experience is the most credible, followed by family and friends with 17%. Speed tests, third-party reports and regulator reports also have some impact on the perception.
There are many findings in the report that support why operators really should strive to own the perception of 'the best network':
Consumers that perceive their operator having the best network are more loyal – 1.7 times less likely to churn – and more likely to recommend it – their NPS score is 48 points higher.
About 70% of the consumers believing that they are on the best network mean their operator provides the best value for money. Yes, they really do.
Users who believe they are on the best network averagely spend 17% more per month on services.
The above is almost too good to be true. But it is reflected in the financial results of the operators:
Those operators perceived as offering the best network in their own country reported an EBITDA margin on average about 5 percent higher in H1 2017 compared to operators rated second best
Wow. Our take on this is:
If you already own 'the best network' perception – defend it. Almost at all costs.
If you don't – try to take ownership. But since consumers trust themselves more than they trust you, it's likely not happening through a campaign or through a network test paid by yourself. You might actually have to build the best network first and then, over time, be rewarded with 'the best network' perception based on the actual experience of customers.
---