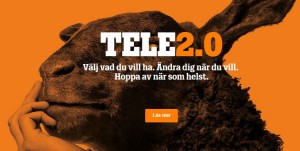 Late November last year, Tele2 launched a major transformation campaign in Sweden under the Tele2.0 banner.
The message? Tele2 had questioned all industry practices and concluded that many of them were outright stupid. And consequently stopped or changed them.
Nine changes were communicated:
 One subscription – compose your own service bundle (thereby ending the era of predefined S, M, L, XL packages)
Only non-binding contracts – for consumers and businesses
One month's test drive: Not happy? Don't pay.
Sell your old mobile to Tele2, use the cash to finance a new
Free data-SIM – top up with data (which never expire) when you have the demand
Two months of HBO Nordic (but not zero-rated)
Maximum data throughput – no speed tiers
HD Voice – later replaced with higher data volumes (see below)
Better coverage (through the networks built by Tele2's two network sharing JVs)
Not all of these nine changes were new to the market (or even new to Tele2), but put together this way, it looked impressive and the aggregate message suits a challenger:
Tele2 is on a mission: To transform a dodgy industry into something better
Of the nine changes, the second one – to only offer non-binding contracts – is clearly the most fundamental. No longer would Tele2 customers be locked into 24 months contracts. Instead they would all have month-to-month contracts. And with that approach, customers can not only upgrade their service bundles when they want, they can also downgrade when they want. And if they are unhappy they can leave Tele2 next month – without penalties.
From a customer perspective, all this flexibility and freedom is great. And Tele2's customers get it for nothing? Not quite. With this model, customers need to pay for the equipment. And suddenly price tags spell out how expensive equipment is (see the Tele2 example right). With the traditional subsidy+lock-in model, customers were provided with a discounted piece of equipment – against a commitment to stay for 24 months.
What wasn't explained was that customers with the subsidy+lock-in model needed to pay too much for the services to compensate operators for the equipment cost – and that the elevated price continued also after 24 months (even though the equipment now was paid off). Neither was it explained that service price erosion is fast in our industry but that customers who sign binding contracts rarely see it. A service price deemed acceptable on the entry of a 24 months contract is not competitive two years later. But the subsidy+lock-in model had one great advantage: It made equipment look cheap. And for some operators, customers' appetite for new equipment is what drives business.
The model Tele2 has dedicated itself to still provide several equipment options for customers (and Tele2 support all three):
BYOD – bring your own device
Pay the equipment upfront
Pay the equipment by instalments (over e.g. 6, 12 or 24 months)
Compared to the subsidy+lock-in model, there's a cost and credit risk advantage for the operator to let customers bring or pay the full price of equipment. And this is obviously why Tele2 does it; it's good for their business. But with lower service prices, higher flexibility and freedom, it can be good also for customers. A classic win-win?
A similar approach is, very successfully, already used by T-Mobile USA where it forms a cornerstone in their un-carrier transformation.
The older version of Tele2
But if this is Tele2.0, there must have been an older version of Tele2. And years back, that old Tele2 was often seen as the black sheep of the industry.
Tele2's past contains elements of aggressive sales tactics, over-promising on coverage, dubious terms and conditions, unlocking fees and problematic relations to the words "free" and "unlimited".
Has all this changed? Is Tele2 really the customer's best friend now?
To contrast to the image above, Tele2 was already before Tele2.0 reasonably popular among its customers. The historical bad habits of Tele2 actually seem forgotten. We use Svenskt Kvalitetsindex to make this point. SKI is every year publishing customer satisfaction stats for different industries including mobile: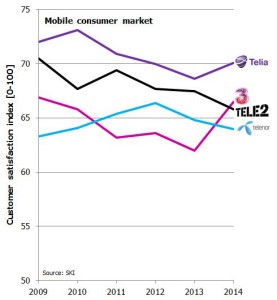 In the mobile consumer market, customer satisfaction has been on a negative trajectory overall, but it is Telenor and 3 who have struggled the most with customer satisfaction levels, not Tele2.
Tele2.0 was launched after the 2014 measurements were done and it will be interesting to spot any effect in the 2015 results.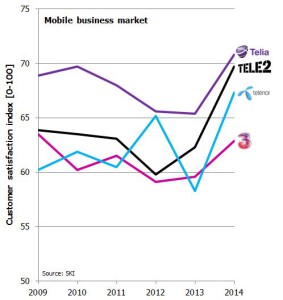 In the mobile business market, customer satisfaction increased significantly in 2014 (from a low level). Compared to its low point in 2012, Tele2 has improved a lot – again prior to Tele2.0.
It's time to realise that Tele2 already long before Tele2.0 had embarked on the journey from customer scare to customer care.
There were early indications of that Tele2 planned to go in this direction:
The upgraded Tele2.0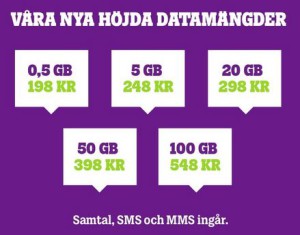 Tele2.0 was introduced in November 2014. In February this year, Tele2 strengthened this proposition with a significant expansion of the data buckets. Not all price points were kept after the change, but a consumer customer with up to 20 GB of data per month would now automatically get 50 GB of data for the same price. Business customers were given even higher allowances – up to a new maximum of 500 GB.
Tele2's existing customers who are still bound by pre-Tele2.0 contracts weren't forgotten. Some of them received a surprise SMS in which they were told that Tele2 automatically increased their data allowance from 1 March, from e.g. 6 GB to 50 GB or in some cases even to 100 GB.
Based on what customers posted on social media, it was well received. In the coming months, tefficient will gradually introduce the term Nonstop Retention™ to describe a set of activities similar to those Tele2 took.
How have competitors responded?
Of Tele2's three mobile competitors, 3 has clearly taken a stance against Tele2. Under the slogan (translated) "A good deal always includes a mobile", 3 countered (see video) Tele2's campaign on its weakest point: That customers no longer can get a subsidised handset.
3 was also the first operator to respond to Tele2's increased data allowances. But their response shows how different the basic business models of 3 and Tele2 have become: 3 doubled all data allowances – but only for new customers signing 24 months contracts or existing customers prolonging or upgrading. And while Tele2's expansions of data allowances are permanent, 3's doubling is communicated as a time limited offer. The doubling also ends once the 24 months are over.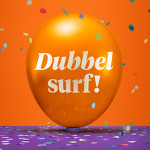 Swedish market leader, Telia, responded to Tele2's expansions in data allowances shortly after 3. Telia also doubled data allowances – but in contrast to 3 not on the smallest 0,5 GB plan. Similar to 3, the offer is time limited (with end date 9 April), but in contrast to 3 is applies both to non-binding and binding contracts – and the doubling is forever.
Telia doesn't choose side between the non-binding/instalment model (represented by Tele2) and the binding/subsidy model (represented by 3) – they let the customer decide how they want to have it. Any way is possible.
Finally Telenor, the last operator to respond to Tele2's expansion of data allowances: It is, shortly put, a carbon copy of Telia's response – but with the end date 22 April. Telenor's pricing structure discourages customers to be SIM-only, but the option is at least offered.
Concluding
Tele2 has taken a business risk when introducing Tele2.0:
Tele2 needs to convince the Swedish market that the benefits of not being locked-in outweigh (transparently) paying for the handset
Once the Swedish operators have reported Q1, we should have the first indications if Tele2 succeeded in convincing the market. Since most of the Swedish mobile subscribers are under running contracts, any flow to Tele2 should take time, though. Churn decisions are however typically not just taken at the end of a contract and Tele2 could therefore hope that mobile customers who are currently with Telia, Telenor or 3 will join – when they have a chance.
We should also expect Tele2's competitors to be busy building what will be their real responses. These might include components out of reach for Tele2's business scope such as fixed high-speed broadband, full TV packages, Wi-Fi, exclusive content deals or cross-border business services.