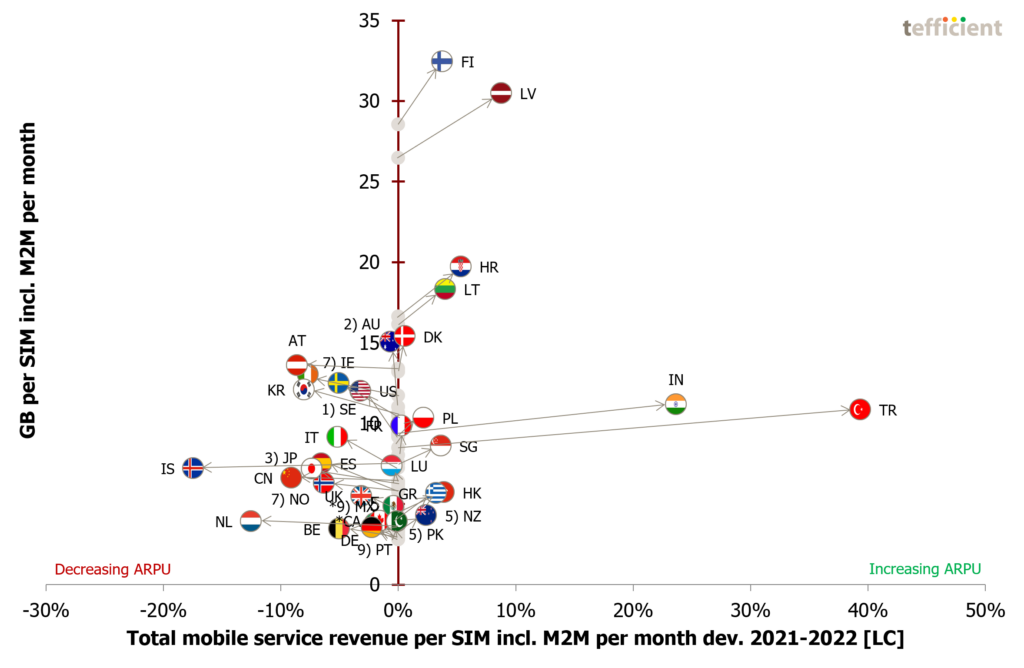 Tefficient's 36th public analysis of the development and drivers of mobile data compares the trends of 45 countries globally.
In our previous analyses, we saw that the pandemic led to an increase in the mobile data usage. The demand for more mobile data has since slowed. Czechia experienced the fastest growth in mobile data usage in 2022: 56%. On the other end of the spectrum, Iceland witnessed a decrease in usage. Austria, China, Malaysia and Norway had some increase, but it was below 9%.
Data-only continues to define the average mobile data usage although the share of base is limited. Latvia's average data-only subscription used 138 GB per month in 2022. In the FWA-only category, Australia had 286 GB and Sweden 250 GB.
Overall, mobile data has never been cheaper although the erosion in the revenue per gigabyte slowed compared to previous analyses. Greece had the fastest erosion, 30%, while Turkey and India had an increase.
The positive ARPU development seen in our last-year analysis did not continue in 2022. Usage grew at a slower rate, and a lower share of countries were able to improve ARPU. With high inflation now being present, we had hoped that the ARPU improvement trend from our 2021 analysis would continue.
But we spot something new: The countries doing the best on ARPU development are often high-usage countries. The low ARPU performers are in the low-usage part of our Christmas tree.
---
Download the analysis: High data usage countries do better on ARPU development than low-usage countries
---
Updated with 2022 data for Germany 3 June 2023
Updated with 2022 full year data for Australia 9 June 2023
Updated with more detailed 2022 data for Belgium 15 June 2023
Updated with 5G and data-only data for Taiwan in 2022 and 1H 2022 data for Luxembourg 19 June 2023
Updated with 2022 data for Luxembourg 21 June 2023
Updated with year-to-June-2022 data for New Zealand 29 June 2023
Updated with 2022 data for Poland 30 June 2023
Updated with 2022 data for Greece and an addition of FWA-only data usage for Ireland 3 July 2023
10 July 2023: Taiwan and Qatar removed from the analysis – now just in our new excluding-M2M analysis. China added to the including-M2M analysis. Wholesale revenue excluded to the degree possible in Germany, Belgium, Australia and Luxembourg.
Updated with full year 2022 data for Croatia 11 July 2023
Slovenia added 12 July 2023
Updated with full year 2022 data for Austria and regulator-reported 2022 revenue for Denmark 14 July 2023
Updated with 2022 data for USA (from CTIA), regulator-reported 2022 revenue for Italy and newly reported M2M subscriber values for the UK 25 July 2023