How much mobile services do you get for 20 EUR?
For 25? 30? 35? 40 EUR?
We have compared the service prices of all mobile operator brands in eleven countries: Germany, the UK, France, the Netherlands, Belgium, Sweden, Austria, Switzerland, Denmark, Finland and Norway.
And Europe is divided.
On the very affordable side you have Finland, France, Denmark and (most of) Sweden. On the very expensive side you have Belgium, Switzerland, Germany and Norway.
In no man's land you find the UK, the Netherlands and Austria.
What do you get for 20 EUR?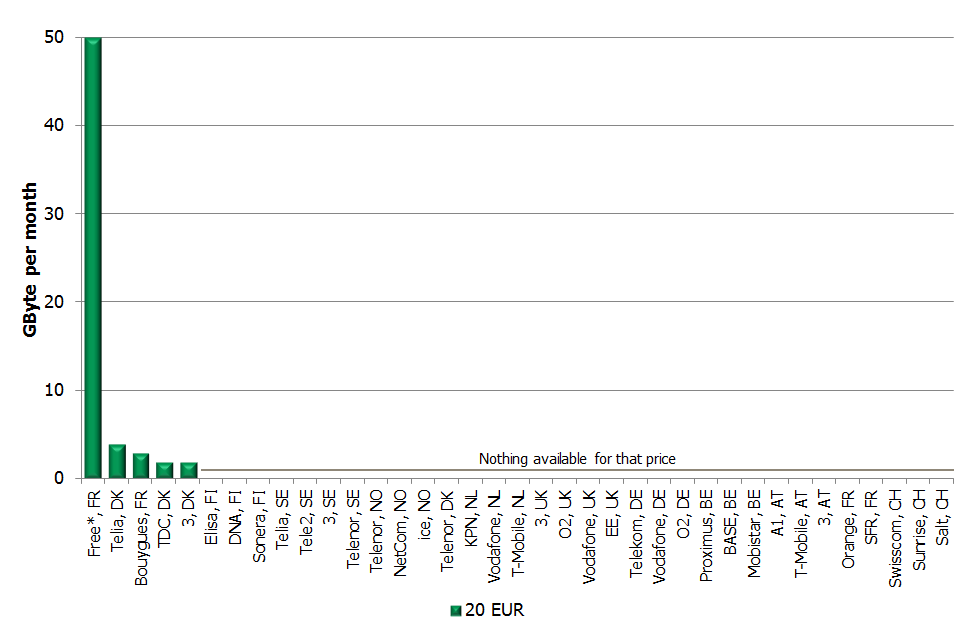 (click to enlarge any graph)
In the eleven countries, there are only five operators – two French and three Danish – who via their main brand's web offer a plan with unlimited voice and messaging for 20 EUR or below.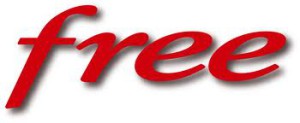 For that amount, Free's customers get 50 GB of 4G data (*but just 3 GB of 3G data), which is a whole lot more than the 2-4 GB the other four operators offer.
The main finding is however that in the other nine markets, 20 EUR doesn't buy any plan with unlimited voice and messaging.
What do you get for 25 EUR?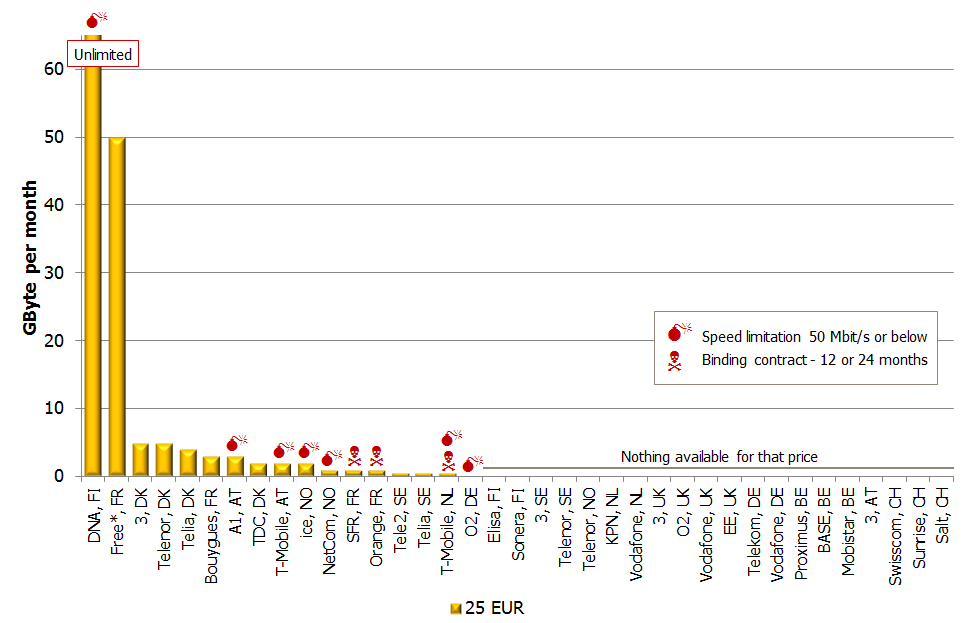 Spending 5 EUR more is bringing more choice to the European customers. DNA from Finland is now the value leader providing unlimited data. For this price, DNA is however throttling the maximum downlink throughput to 50 Mbit/s.

We have chosen to mark all plans throttled at 50 Mbit/s or below with a small bomb. As you can see from this graph (and the following ones), this practice is common in Austria, Norway, the Netherlands and Germany.
It is in our view misleading to promote plans as "4G" when they in some cases – Telenor + NetCom Norway and T-Mobile Austria – are throttled to just 10 Mbit/s. This is significantly lower than what 3G can offer. With 21 Mbit/s, O2 Germany and A1 aren't much better. Operators do this to put a lower price tag on a certain plans – and/or to push customers to select a plan with higher data allowance (and higher throughput) than what they actually want.
There's also a small skull symbol representing plans for which the customer (even though SIM-only) needs to commit to either a 12 or even a 24 months contract. In all other cases, customers have non-binding contracts (or in case of Denmark, contracts with 6 months binding).
Noticeably, throttling and lock-in counter-intuitively tend to happen in the lower value end.
About half of the operators still don't have a single plan with unlimited voice and messaging for 25 EUR.
What do you get for 30 EUR?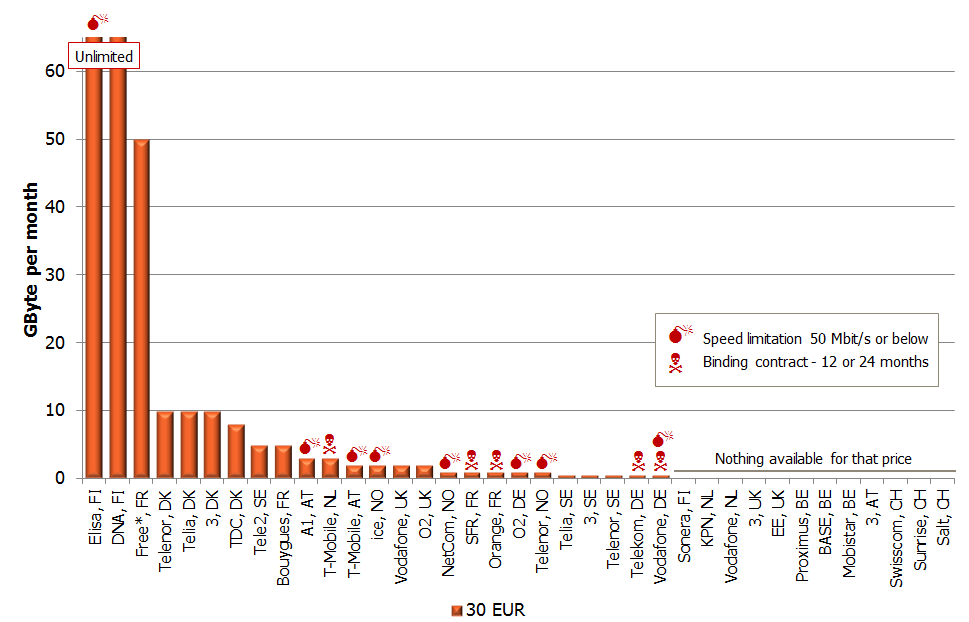 For 30 EUR, there are now two unlimited plans available: An unthrottled plan from DNA and a throttled from the local competitor Elisa. (Since Free only has one plan, it is the same in all our charts).
All four Danish operators follow – before Tele2 Sweden and Bouygues.
There's quite a lot of bombs and skulls in the lower value end of the chart. German operators Vodafone and Telekom are appearing for the first time. Both operators force 24 months binding and, in addition, Vodafone throttles to 21,6 Mbit/s. Not only is the value for money low – both plans include 0,5 GB – the policy is harsh.
There are still twelve operators who do not have a single plan with unlimited voice and messaging for 30 EUR.
What do you get for 35 EUR?
35 EUR is a very high ARPU level in most markets. In Belgium and Switzerland there's still not a single plan with unlimited voice and messaging available for that money.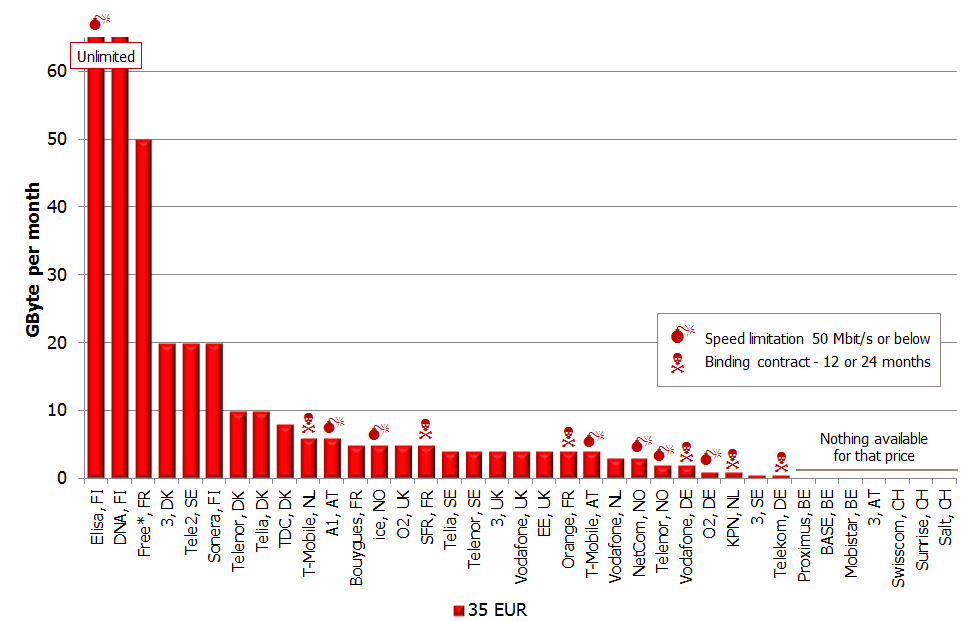 Elisa's and DNA's competitor Sonera has now entered the chart with an
allowance of 20 GB and squeezed into the Danish block together with Tele2 Sweden.
What do you get for 40 EUR?
Not even at 40 EUR have all operators entered the chart. Neither Proximus, Mobistar, Swisscom nor Sunrise have a single plan with unlimited voice and messaging at 40 EUR or less.
In the other end, we see that all three Finnish operators now provide unlimited data (with 100 Mbit/s or higher).
40 EUR would actually make it possible to buy two SIMs with 50 GB of 4G data each from Free. Maybe Free should have been in the graph with 100 GB?
40 EUR buys 50 GB with Telia Denmark, 30 GB with Telenor Denmark and TDC, 20 GB with 3 Denmark and Tele2 Sweden (in both cases same as for 35 EUR) and with SFR (but in their case, the customer needs to sign a binding 12 months contract).
As seen throughout the charts, the harshest policy when it comes to throttling and binding happens in the lower end of the value scale.
---
Comparison criteria
Sim-only contracts for consumers with as short binding period as offered
Unlimited voice and messaging included
Prices after any introductory time-limited discount expired – but before any after-contract price hike

Where applied, this typically means the price a customer pays after 12 months but before 24 months

No bundling discounts with fixed services taken into account
All prices as per 21 September 2015 and via respective operator's web page
It's important to point out that most of the prices shown are offered to new customers, not existing ones. In countries where price erosion is a relatively new characteristic (as in e.g. the Netherlands) this comparison therefore provides a too rosy picture of the situation.
When possible, it's therefore recommended to look at the actual revenues of mobile operators and use that to calculate the effective price per traffic unit (e.g. Mbyte). At tefficient we will continue to issue reports based on actual operator revenue and actual usage. Our latest such report is available here.